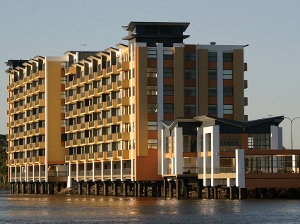 The top notch establishment, Varsity Towers provides purpose built accommodation for students at Bond University on the Gold Coast.
All 328 fully self-contained studios and apartments are designed to optimise stress-free student living with their stunning views of Lake Orr, golden beaches and city skyline.
The 350 plus students who live at Varsity Towers are very lucky to have Rex Fitzgerald as their building manager. Rex is a problem solver, a very forward thinking and proactive manager who had a problem with the increasing amount of electricity being used at Varsity Towers. Motivated to reduce power consumption, decrease the ever-increasing electricity bill and increase the building's environmental efficiency, he searched for a solution.
At first Rex felt helpless; the residents were using unlimited electricity as part of their rent and not being mindful of their usage. According to Rex, "walking along an empty corridor in the middle of the day, you would need a jumper to keep warm because the cold air from the air conditioning units pumped out from under the doors of each empty room". He looked at several solutions in an attempt to address this issue but ultimately chose Prepaid Meters Australia to install meters because they offered a holistic, tamper proof and educational experience as well as a guaranteed usage reduction.
First of all, Rex needed to work out what a fair allocation of electricity would look like for each student. With the notion that each student who moved into Varsity Towers would be given a yearly allocation of electricity as part of their contract, paying for any extra electricity used. A trial was undertaken to decide on a fair allocation figure, this was done by recording the electricity usage of an "average", energy mindful, resident over a period of three months.
In February 2012 Dimitri Katsimberis at Prepaid Meters Australia installed the prepaid meters to each room and he noted, "The process was easier than expected". The biggest challenge for them was to get approval for the system from the body corporate – this required establishing a good working relationship, effective communication and a system demonstration. He explained that prior to installation, the body corporate had one meter and one bill that they paid a percentage of and they distributed the remainder of the bill between lot owners. After the implementation costs, there's still one bill but due to each room having a prepaid meter, individual usage can now be monitored and charged fairly.
The system, Dimitri explains, is beneficial for all multi-dwelling building types those with or without meters and includes meters that are privately owned or provided by the energy retailers. The system offers many advantages, it removes all bills, meter reading costs, arrears and administration required to invoice and collect funds, this completely removes the financial risks associated with collections and arrears from the body corporate and it improves cash flow. The $100,000 plus savings it created, he points out, can now be used for reducing levies and or adding further value to the building. All utility billing disputes are removed as the system offers each resident transparent access to their bill, putting the power back in their hands. The building's carbon footprint will also be reduced, he advises by more than 30% thus demonstrating the residents' commitment to a cleaner and greener environment.
A very clever monitoring system was put into action then, where all tenants are given a 20-digit token code that activates the meter upon arrival and are each credited with 4.5kWh for each day of their stay. This means that for a 15-week lease or 105 days, the figure totals 472.5kWh of credit. On top of his or her allocation, each resident is given a 5kWh emergency reserve. Credits can be purchased at any time via a web-based portal, phone or a payment kiosk.
The meter located in the room has an LCD screen that counts backwards from the credited amount. It clearly shows the current electrical usage and the balance remaining. The meter will warn guests when it is low by displaying an exclamation mark (!) giving the tenants time to purchase more credits. A red LED light flashes in accordance with the tenant's energy consumption, so the more electricity they use the more it will flash. This immediately alerts the residents to any excessive usage. This is a clever reward system that effectively changes guest behaviour.
The results, according to Rex, have been outstanding. For him, the aim of this project was never to curb the comfort or lifestyle of the residents but to educate and increase awareness of their energy usage and 18 months later, Rex is proud to confirm that the installation has been a huge success. He explains that when the prepaid meters were first introduced, a proportion of the residents were in uproar. They assumed it was a revenue raising exercise but within a very short time they realised that the electricity allocation was very fair and they liked that they could clearly visualise their personal electricity usage and could self regulate.
He says, "It took one week for the residents behaviour to change, they became much more energy conscious and they started to turn things off!" The figures speak volumes for this intervention he says, "There has been a 35% reduction in energy consumption by residents" and "the body corporate are overjoyed with the 30% reduction of their yearly $300,000 electricity bill". Due to the installation of Prepaid Meters Australia, Rex is now exceptionally proud to manage a much more environmentally friendly, energy efficient building.
Rex highly recommends Dimitri and the team at Prepaid Meters Australia. He says, "Dimitri is a legend because he listens. The installation process from beginning to end was seamless, Dimitri was willing to trial the system, customize it and the whole system was installed within 10 days.' He adds, "The Prepaid Meters representatives are always helpful, professional and have integrity."