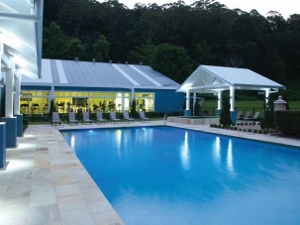 MICROS Australia, a leading provider of information technology solutions for hospitality and retail, is pleased to announce that the renowned spa and wellness property, Eden Health Retreat in Queensland, has selected MICROS' innovative Fidelio Suite8 property management solution to streamline the management of retreat operations into a single system.
Used in over 4700 hotels across Europe, Suite8 is MICROS' latest offering for hotels and resorts and will adapt ideally to those hospitality areas outside the normal hotel 'scenario' such as Eden Health Retreat. It's a flexible, all in one solution with a comprehensive customer relationship management (CRM) module at its core to help hotels and resorts exceed their guests' expectations.
The easy-to-install system offers a wide range of configuration options and combines user-friendly modules into one integrated solution. The ability to tailor the solution to any establishment's unique needs makes it the perfect choice for Eden Health Retreat.
Eden Health Retreat has implemented Suite8 to improve the management of reservations and guest data, facilitate online bookings through an integrated web booking engine, automate the booking and management of leisure activities and spa services, and deliver a consistently high level of guest service. The Suite8 solution also includes a branded application allowing guests the flexibility to manage their stay from their mobile device.
"We require a flexible property management solution that can be tailored to our specific needs," stated Stuart Bell, manager, Eden Health Retreat. "The MICROS Fidelio Suite8 solution will allow us to implement the modules we need to run our business efficiently and the integrated CRM ensures we focus on our guests and provide them with a unique and memorable experience. We need to provide more than just accommodation bookings to our guests, so the ability to manage accommodation and leisure activities all from a single solution means our guests will enjoy a more holistic experience."
"We are excited to bring MICROS Fidelio Suite8 property management solution to Australia and Eden Health Retreat is the perfect partner to be our first installation," stated Christopher Adams, managing director, MICROS Australia. "After many years of success in Europe we believe now is the right time to introduce the Fidelio Suite8 solution to hotels and resorts that are looking for a flexible solution to manage all components of the guest's stay from one system."
A place of healing and rejuvenation since 1984 (celebrating their 30th anniversary this year), Eden Health Retreat is Australia's longest established health retreat and remains unique as a holistic getaway offering a one of a kind, personalised program. Nestled in an ancient valley known for its healing energy, Eden is a place of nurture for mind, body and spirit and offers absolute seclusion from an increasingly busy and stressful world.