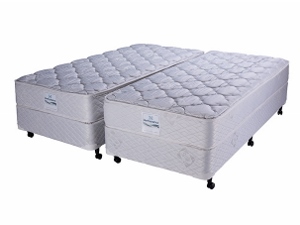 As any seasoned accommodation manager will tell you, some customers come to expect an "extra bed" in their hotel rooms. When a room's maximum capacity can mean the difference between getting a booking or not, it's always good to weigh up your options for extra bedding. And, the extra revenue – small though it may be – can quickly provide a good ROI.
For an accommodation manager, these amenities are circumstantial and may need to be handled at short notice, so an option that is user friendly and quick to install would be ideal.
Comfort, however, should not be compromised. An uncomfortable night's sleep could mean the difference between a happy, returning customer and a disgruntled complaint maker. The importance of a good night's sleep should never be disregarded, aesthetics are important, but when it comes down to having a good night's sleep the majority of guests will this at the top of their priority list.
But what is the marketplace for bedding of this nature? The obvious solution is a sofa bed, being convenient and easy but with an investment of this nature, great care must be taken to choose a sofa that suits your desired style. Sofa beds can be riddled with support bars and metal frames, so it will be worth your while to test out a range of mattresses to even this out. More affordable sofa bed options may not be the most comfortable solution but they can make a perfectly elegant result. A well chosen sofa bed is a dual use, space saver that can beautifully match the colour and interior design of any modern guest room.
What are your other options? For one, there is a marketplace for rollaway beds. This involves a high quality mattress positioned upright on a trolley for easy movement in and out of rooms. The idea of a rollaway bed is a relatively convenient option and when used with superior mattresses they can also be a very comfortable solution but staff assistance is required to set them up, as the bulky frames cannot be stored inside a guest room permanently. The rollaway option is ideal for situations where an extra bed is not often needed.
Zip beds are the exciting and growing trend – single mattresses that zip together to form a king size one. This is a clever way of maximising the amount of guests that can stay in each room, while maintaining king beds in each room.
Trundle beds are another viable option. This is where a bed will have another mattress stored in a drawer beneath it, allowing it to slide out when required. This is a very reliable option for children and the trundle bed can be easily hidden beneath sheets when not in use. Trundle beds are convenient space savers and they are affordable but are not a viable option for a larger child or an adult.
Due to the drawer design they may tend to have a thin mattress and low weight limit and with repeated use in a busy accommodation they may be at risk of breaking under strain and may require maintenance – possibly not so convenient for a rural bed and breakfast.
For a more contemporary option, look no further than self-inflating/deflating mattresses.
This is an expensive but easy-to-maintain mattresses that simply needs to be rolled onto a flat surface where they inflate by themselves in seconds. They can be stored either in the rooms or the accommodation storage area, and are relatively comfortable to sleep on. The quick deflation also makes for portability, however the price tag can be a big drawback for some.
Once you have chosen your bedding option – do you rent or buy? If you've chosen a rollaway or an inflating bed, you've chosen options that can be removed from rooms at will.
But where will you keep them?
You could hide them in the rooms, but when not in use they're just using up space. For a small motel there will not be much storage in the back-office. A lot of hospitality businesses nowadays opt to rent such amenities; calling local hire companies whenever they need extra bedding.
While this is a viable option for businesses lacking in storage, you have to consider the hygiene standards, pricing and vigilance of the particular business you are hiring from to make an informed decision.
There are a lot of bedding solutions out there, so be cautious in your decision making and consider your guest's comfort above all.
Often the best solution is the one that will leave your guests well rested and ready to give you the review of a lifetime.
Put yourself in your guest's shoes and always try before you buy. If you sell a two person hotel room to three people, you want to make that third person comfortable enough to become a returning customer. Also remember that the revenue from providing an extra bed or charging for additional people staying in the guestroom will obviously speed up the ROI and pay for the initial outlay in a short period of time. Whatever your spare bed choices always consider the quality of mattress that you provide as this can turn a mediocre option into a very viable option. Your guest's comfort is critical – remember this – not all your guests are experts on bedding but you can be sure they are all experts on sleeping.