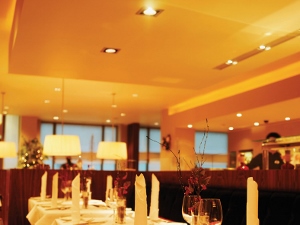 LED lighting has emerged as a versatile technology for accommodation and hospitality applications, able to showcase ambience in its true light while delivering significant energy savings.
Today's LED technology offers far higher levels of brightness and energy efficiency than seemed possible just a few years ago. And that is part of the challenge – even for an experienced designer, the wealth of LED lighting options now available might seem overwhelming. The decision to invest in a new or different lighting technology is of huge importance to accommodation providers and designers. Because of the energy- and cost-saving potential of LEDs, facility managers are taking such matters very seriously too.
LED lighting experts agree that it is difficult to find a lighting application with aesthetic standards higher than those of hotels, motels, resorts and restaurants. Colour, intensity, beam angle and light distribution must all be given due consideration. With the ever-wider variety of LED options becoming available, selecting the best source is not getting any easier. Here are five tips to help make that choice:
1: Low intensity
LED lighting might have made giant strides in terms of brightness over the past few years, but that is not necessarily what a accommodation and hospitality environment needs – particularly when it comes to creating mood and theme emphasis. But one of the key benefits of good LED lighting is that it delivers only visible light, cutting out the damaging ultraviolet and infrared elements.
2. Bring out true colours
Creating ambience in the form intended for their guest is the ultimate aim of the accommodation and hospitality lighting designer, but is harder than it sounds. LED lamps allow designers to select a CCT level that best matches each mood.
Simple changes like adapting CCT from 2700K to 3000K made blue tones more vivid if that is desired to create a mood or enhance a theme.
Bringing out that "true colour" depends upon both the chromaticity of the source and its colour rendering index. As an example, Verbatim's Vivid Vision directional LED lamps tap into this need and are designed to meet the specific requirements of the accommodation and hospitality industries. Using proprietary VxRGB technology developed by Verbatim's parent company, Mitsubishi Chemical Corporation, Vivid Vision ensures that colours and fine details of objects are rendered accurately. Such high contrast lighting is being deployed to bring out the subtle differences needed in features such as artworks and unique displays that are generally focal points in lobbies, guest rooms, bars and restaurants.
3: Beam angle
The availability of lamps with different beam angles represents one of the key elements of control for a designer. For a given beam angle, LED lighting tends to offer a greater intensity in the centre of the beam profile. And while the combination of a small filament and precise optics in halogen lamps means that they are good for very tight spotlight distribution, LEDs featuring a wider beam angle can also be advantageous.
4: Set up a test
Because of the specific nature of individual accommodation and hospitality requirements and the wealth of LED lighting options, a large hotel will likely need different sources for different public areas and rooms. Of course, there is no substitute for a practical evaluation of LED lamps rather than relying on the performance claims of data sheets. Experts recommend mocking up light sources with similar light levels with similar paint finishes and such in a test first.
5: Intelligent distribution
It isn't just about the total lighting intensity. In a nutshell: put the light where you want it, and take it away where you don't. This approach also cuts out unwanted shadows and light spill, while glare can be reduced by pushing lenses further back in the luminaire. But watch out for ugly "scallop" shaped spots on the wall – these result from circular lenses, and switching to asymmetric optics offers a solution.