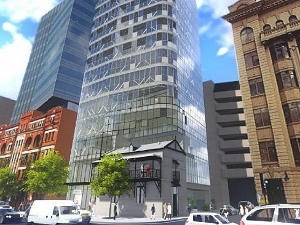 The 105-year-old Queen Adelaide Club gained approval on 26 June from the Development Assessment Commission to demolish two of its three heritage-listed buildings to make way for a $30 million, 21-storey development. The Queen Adelaide Club will utilise six floors with dining rooms, lounges, bars, a function level with a business centre and six accommodation rooms for members of affiliated clubs. The balance will be a "vertical retirement village" for club members. The upper 14 levels will have two three-bedroom apartments, with residents having exclusive use of a communal garden, kitchen, lounge and dining area on the rooftop.
Architect Mario Dreosti, a director at Brown Falconer, said "The club had two challenges — their long-term financial sustainability, but also they do quite a lot of functions there and the existing buildings didn't have the facilities to handle them as well as they could have."
The heritage building will remain as the club's main entrance at the tower's base.