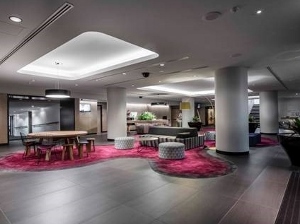 News
Mercure rolls out new lobby format
The Accor group's leading midscale hotel brand Mercure has commenced the roll out of its new interactive lobby concept in Australia, launching its first new-look reception space at the Mercure Brisbane this month.
The Mercure in Brisbane is the first in Australia to implement the new concept, originally piloted at the Mercure Tower Bridge in London in April 2013.
Coming just a few months after Mercure Brisbane's multimillion dollar room refurbishment, the latest reveal for the hotel is striking with modernistic pops of pink and sophisticated new furniture and finishes for a fresh sense of arrival at the popular riverside hotel. A key feature for the new space is a free-form host pod in place of a traditional front desk that allows for a more seamless interplay between associates and guests.
Mercure Brisbane general manager Mark Wilkinson said feedback to the lobby design has been overwhelming, with guests and staff alike enjoying the interactive approach facilitated by the new environment.
"We look at the lobby like a global space where you can check in, enjoy a free coffee, read or catch up online, and even meet with friends and colleagues in a casual and comfortable space," said Mr Wilkinson. "It's a much more modern and appealing area for everyone. We've had positive feedback already from guests enjoying the more natural, side by side approach of conversing with our team members, without the barrier of a traditional bench in between."
Instead of using bulky desktop computers to check guests in, Mercure Brisbane staff now navigates the lobby space which also includes more casual lounge areas to encourage interactionwith tablets.
The lobby lounge area now also boasts a Nespresso coffee machine for guests to self serve coffee as they wish, a new reading area with magazine's brochures and ipads, refreshed mac corner with three computers for guests plus a refreshed concierge desk equipped with storage, direct lift access, and convenient wide corridor for immediate entrance to the hotel's conference rooms.
Reflecting the brand's values of commitment, curiosity, authenticity, and offering an uncompromising quality guarantee, the Mercure lobby concept was inspired as part of the brand's overall repositioning, coinciding with Mercure's 40th anniversary last year, touching on everything from design to development.
Mercure's lobby concept, as well as other design changes such as upgrades to Mercure room designs, will continue to roll out across Australia over the next three to four years.