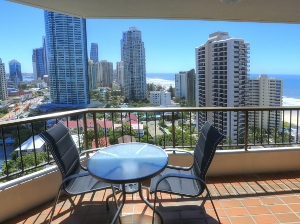 Profiles
Out of the 80s and into the modern era
Surfers Paradise is highly regarded as the entertainment capital of Queensland and its pristine beach was voted by the American Travel Channel as one of the best beaches in the world.
It is very easy to understand then, why Surfers Paradise attracts so many visitors. With such an abundant choice of accommodation available it is hard to single out accommodation providers that stand out from the crowd but Surfers Century Apartments most certainly does.
You do not have to look too hard to see why. The location of Surfers Century is pretty unbeatable. It is positioned on the surprisingly quiet Enderley Ave, less than a 10-minute walk from the heart of Surfers Paradise, the notorious epicentre of entertainment. Its complex is ideally situated, with the favoured northerly aspect, just a very short stroll from both the main transit station and an idyllic patrolled beach.
Built in the 1980s, this resort spreads itself over a huge block of land that affords it space, privacy and a beautiful outlook that a more recently built complex could not hope to boast. Some of the large one and two-bedroom apartments peer over the quiet and sun drenched pool that sits back just enough to avoid the shade of neighbouring towers. The lay of the land also includes rich tropical gardens, inviting barbeque areas, a cute children's play area and two full size tennis courts. Some apartments have beautiful beach views while others take in colourful city or river views but what is undeniable is the truly outstanding amount of open space; it offers privacy and an element of unexpected tranquility in the heart of Surfers.
Ian and Marion Dennis are the proud owners of the management rights for Surfers Century, with previous experience in the development and management of motels. They bought the management rights with the assistance of a supportive partner in 2004 and for the last 10 years have worked very hard to achieve their goals one of which was to bring Surfers Century into the 21st Century.
This is a large, independently owned complex of 139 apartments with holiday and permanent lets together with owner occupiers. Consequently, their task has not been easy. The job at hand was to thoroughly modernise and ensure that this great complex meets the expectations of their guests and this has taken time, in fact it is still a work in progress but they are very close to completion.
Ian explains, "The apartment complex is very well built and historically the body corporate did a good job of maintaining it but it really needed a facelift. We want to bring the complex into the modern era."
Together with their very supportive body corporate headed by a proactive and effective chairman, John Ireland, they have put together an expansive plan of renovation spread over a number of years.
Ian describes the plan that has already taken five years, the first stage was the completion of all external painting and the second stage was a renovation of the pool area, the gym and the barbeque area. The next stage, just completed, was the remarkable renovation and redesigning of the fabulous foyer, atrium and driveway. The entrance into Surfers Century now looks completely stunning, not only is it very accessible and safe but the contemporary design is modern, bright and very welcoming.
The next stage in the renovation plan will be to transform the 80s style common areas on every floor, this is a difficult and expensive task. There is always work within apartments to keep them up to modern standards and then, of course, the regular building maintenance throughout the complex.
Ian and Marion are very busy with all this work but they still manage to ensure that the needs of their guests are first on their agenda. Customer service is always at the forefront of their minds. Simply put, according to Ian "you just have to be able to get along with people".
Surfers Century achieves rave reviews on Trip Advisor (they are rated number three of 91 specialty lodgings in Surfers Paradise) and they get many repeat guests, with praise heaped on the extraordinary location, superb cleanliness, and wonderful customer service.
How do they succeed? Apart from sheer hard work, they explain Marion's responsibilities primarily involve the front desk, she manages reception. Marketing is a joint effort and Ian's responsibilities involve more behind the scenes aspects of the business. He works in conjunction with the body corporate and he oversees all the maintenance and building work that needs to be carried out.
Ian emphasises how important it is to have your roles clearly allocated within your management rights team. "I have been married for 42 years and plan to stay married for many more, so it is important that when you spend so much time together that you define your roles and you identify what your strengths are."
As veterans within the resort industry and with 10 years management rights experience at Surfers Century, I asked Ian if he would pass on any valuable advice to up-and-comers. He eagerly responded, "Anyone considering this industry needs to ensure they do plenty of research, assure themselves they have the attribute of people friendliness, talk to other managers before they buy and make sure that they have realistic expectations of how much hard work is entailed. Furthermore, it is absolutely essential you and the body corporate committee establish and maintain a strong working relationship which will ensure the best possible outcomes for all in the body corporate."
Ian is indeed concerned that people could be attracted to the industry because of the lifestyle as it appears from the other side of the counter. He feels that this can be very misleading. "Its not all about having a fantastic lifestyle, its more about committing to mostly long days and sheer hard work so much so that you have to plan your leisure time."
Getting some quality leisure time is essential. Ian admits that it is very easy to burn out if you do not take time away from the resort therefore this couple ensure they both get away to play golf at least once a week, they take a long walk every morning and make sure that they socialise with friends from all walks of life, not just industry peers.
This experienced and industry savvy couple chose well when buying their management rights. They recognised how remarkable this complex was; with all its fantastic facilities, open space and ideal location. Plus, they were committed to the long haul. Their mission was to modernise and mould Surfers Century into a resort worthy of today's uncompromising guests. Ian and Marion should be congratulated for their tenacity and hard work. Their mission is very nearly complete and it is sure to be a triumph.