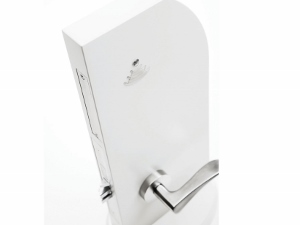 In general the accommodation industry has not been regarded as synonymous with being in sync with real time technological innovation in the industry.
This lag in implementation is in part due to the complexity involved in securing the required investment and the way in which the management and ownership of most hotels is structured. Nevertheless state of the art technology constantly orbits and influences every aspect of the industry and this is the time that it is poised and ready to take off into the stratosphere.
Imagine a hotel where guests can check-in using their smart phone that in turn becomes their room key, preset with room number and duration of stay. And that this virtual key is sent to their smart phone so they can bypass the front desk and go directly to their room. When they arrive the gate to the car park automatically opens, they park their car and they walk to the lift that takes them to their floor. There they find a personalised digital welcome on the door that opens for their arrival. Then in their room they discover that the energy management system, triggered by their smart phone in the lobby, has already kicked in to achieve the perfect room temperature for them, the smart TV has flickered to life and mood lighting is set perfectly.
Imagine that when leaving their room, your guess's phone will notify the EMS system, effectively putting their room to sleep so that the TV and lights switch off and the temperature is set to economy. The system will determine if legitimate staff enters by sensing their keycards or fobs and the EMS acts accordingly. It sends an alert to security if the door is opened by an intruder or left ajar. So safe, so easy, so managed and potentially, so green and economical.
This sounds futuristic but it is not. There is a multitude of hotels world wide and in Australia that have already invested in this technology. While in Australia some of the larger chain hotels are currently only using this technology in some of their flagship hotels, brands such as Starwood Hotels and Resorts are rolling out their smart check-in program globally. They are using smart phones for check in after which guests are asked to collect a smart fob or card on arrival at the hotel lobby.
Will this type of technology become the industry norm? Most probably. Will guests object to a faceless check-in? Not every guest will want to bypass traditional check-in and the option to be greeted by a friendly human face will always be demanded by some. But could this smart check-in take the industry by storm and move things in a very different direction?
It certainly will free staff up and allow them to concentrate on making their guests more comfortable in other ways. One factor that gets the thumbs up from guests is that this way they can circumnavigate the traditional bottleneck at check-in but we are sure to hear many other guest reactions to this technology – no doubt their reviews will be uploaded on these very same smart phones!
Indeed with such widespread use of smart phones there is little doubt that this will frame the future of the industry as well as being popular with guests. Like all technological advances, it will take a while to filter through and smaller hotels and accommodation providers may find it difficult to justify the initial investment, despite the long term economical benefits. Technological standards throughout the industry have come such a tremendously long way in the past few years and accommodation managers are certainly challenged to keep abreast of both new initiatives and future innovations across the industry.
The world of accommodation door lock security systems technology has most definitely been progressive. Radio frequency identification is an automatic identification technology whereby digital data encoded in an RFID card or "proxy tag" is transmitted by the card and captured by a reader) has been around for quite some time and this is the technology that needs to be in place to be able to introduce smart check-in technology. Despite RFID being on the scene for so long, some accommodation providers are still using old magnetic stripe technology. However as soon as they are able, they are upgrading to the newer innovative and more current RFID technology.
RFID technology offers some of the most sophisticated and advanced hotel door locking systems. These systems are innovative, intelligent, and state-of-the-art and allow access and control for both staff and guests. The benefits of these locks are the contactless smartchip keycards where the enclosed reader eradicates the need to clean reader heads and the lack of exposed moving parts means no wear and tear on lock components, less maintenance and greater long term reliability. Provided systems do not demand proprietary keycards pre-encoded by the supplier, these RFID cards are still affordable as accommodation providers are free to compare prices in the open market and not locked in to buy cards only from that supplier who then has full monopoly on price.
Jason Gergely is the business development manager at Vintech Systems, a respected industry supplier of accommodation specific products and solutions that has been in operation since 1998. He says, "Vintech prides itself on being able to provide clients with total turnkey solutions bringing together access control and security; energy management systems and room automation that communicate and interface seamlessly with hotel PMS and POS systems."
Vintech provides holistic technological solutions and Mr Gergely explains the current advances to their technology, "The latest advancements of RFID technology have been more in relation to the integration between guest room RFID locks and in-room energy management systems."
Vintech's most advanced systems are Control4 and Messenger Lens. The Control4 Hospitality Solution, although previously exclusively the domain of four-five star properties, recent decreases in the capital cost of such energy management and room automation systems have allowed their integration into other spheres of accommodation developments. These can be retrofit or installed in new construction and claims to, "transform the guest experience and enhance hotel operational efficiency."
Control4 is a system management software package for remote management servers that give accommodation providers unprecedented management and in-room control across their entire property. The Control4 Hospitality Server software is used to seamlessly integrate existing property management systems with trouble-ticketing systems and Control4 guest-room equipment. This enables the automation described above based on check-in, check-out, and guest service requests.
Vintech's Saflok Messenger LENS system is ideal for accommodation complexes that seek the ultimate in security and guest experience while maximising operational efficiency. The wireless online system offers a two-way communication between the front desk and the electronic locks. It enables staff to receive notifications or alerts from the locks to a server, an email address or directly to a cell-phone via text message. The system can also communicate events that occur at the locks to third party devices or systems for greater flexibility and control options.
Mr Gergely explains why Vintech is so respected in the industry, "We keep abreast of the latest improvements and technological advancements." He says the quality of the products speak for themselves, "Kaba Lodging Systems with its two excellent locking systems – Ilco and Saflok – have always remained one step ahead of the market." Of course he confirms that Vintech, has very experienced staff that constantly work together to ensure that they approach the market with dedication and expertise in order to offer the most applicable solution.
The key considerations in terms of selecting the best technological outcome for a property seem to be choosing the right integrated system, cost, safety and quality. Keeping guest safety as the top priority is a given and obviously the RFID system seems to provide the securest options. An ever-constant fear is the issue of substandard technology flooding the industry. While they may keep the initial installation costs down, this will come with a long term cost. Their expected service life is greatly reduced from more established companies, so indeed the lesson to be learned here, for those of us in the accommodation industry is to keep up to date with the newest technological advances, assess the individual needs of your accommodation and talk to a knowledgeable and reliable provider of this technology.
VingCard Elsafe is another highly respected industry supplier of this technology and a global leader in hospitality security. Part of the Swedish Assa Abloy Group, that has door opening solutions installed in more than 42 000 properties worldwide, securing in excess of seven million hotel rooms.
Julian Good is the general manager for VingCard Elsafe Oceania and he explains, "VingCard provides numerous electronic locking system solutions, including traditional magnetic-stripe, smartcard systems and the latest RFID electronic locks compatible with the main ISO standards," and he is very excited to describe all the new technology that they have recently introduced.
Orion by VingCard Elsafe, is the intelligent energy management solution, that allows hotels to manage room temperatures while their guests are away from their rooms using sensors and an intelligent thermostat, that reduce energy costs while ensuring guest comfort at the same time. Mr Good explains, "As hotel guests become increasingly concerned about the environment, Orion gives hoteliers the tools to improve their properties' green initiatives by reducing the energy consumption."
Essence by VingCard is the world´s first invisible door lock. Julian Good explains that VingCard Elsafe initiated a growing trend toward minimising lock hardware on the guestroom door with the introduction of this locking system last year. With a Sydney hotel being the first hotel in the Southern Hemisphere to install this revolutionary concept in hospitality security. He says, "it has taken minimalist design to the extreme by eliminating all lock hardware on the door. Essence encases all electronic components inside the door itself to make the access devices practically invisible to hotel guests."
Following on from the invisible lock solution of Essence by Ving Card and taking things a step further is the introduction of, Allure by VingCard – all external hardware on the door has now been completely eliminated through the use of an attractive and futuristic signage panel. This is a refined, contemporary and intuitive new concept in design and technology and a patent is pending. "Allure is the next generation of hotel design and technology," said Mr Good and he describes how, "guests are becoming accustomed to visual readability, ease of use, and touch panel operation when it comes to their devices. Allure combines all of these features, bringing hotels the most advanced concept in door locks on the market."
VingCard Elsafe is a company that is proud to admit that it offers the industry the very best aspects of design and innovative security technology.
For accommodation providers this is a very exciting time to put your business at the forefront of this technological era and take advantage of all the advances within the industry. This is an innovative and a very exciting time to look at your door lock security and consider the introduction of technology that apart from the increased security for you and your guests, will also look up-market and trendy and will potentially attract many guests while saving on energy and staff costs.
Contacting a respected and specialised industry supplier of this technology is completely essential if you are going to get the best advice on how to introduce this technology to your accommodation. Remember to make sure that you invest in the finest quality system that your budget allows and ensure this technology is able to "talk" to all the other technological systems already in place. Do this and you will proudly be able to take your accommodation facility into the next decade and you will no longer lag behind.