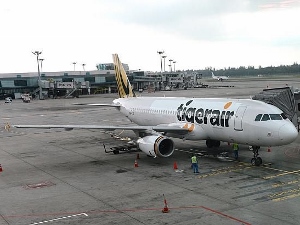 News In Brief
Tigerair Seeks Domestic Terminal Service at Sydney Airport's t2
Tigerair Australia has called on the support of industry and government for fair and equitable access to existing infrastructure at Sydney Airport.
Following issues with access to existing infrastructure and investment in future infrastructure, Tigerair has asked the National Competition Council to recommend to the designated commonwealth minister that the "domestic terminal service" provided by Sydney Airport Corporation Limited at Terminal 2 be "declared" under part IIIA of the Competition and Consumer Act 2010.
Tigerair Australia currently faces a number of issues at T2 including limited access to hard stand gates (with aerobridge) in peak periods that require it to use a bussing operation to transport passengers to remote aircraft bays, access to a restricted number of check-in counters and unresolved issues regarding investment in improved check-in technologies to provide additional capacity. These issues adversely affect Tigerair's customer experience, travel time and operating costs.
Tigerair Australia CEO Rob Sharp said, "We welcome the long term infrastructure changes and improvements proposed by Sydney Airport's 30 year master plan however, in the short to medium term, infrastructure constraints disadvantage Tigerair and its customers.
"As a relatively new entrant at Sydney Airport, Tigerair currently operates in an environment where the infrastructure is increasingly constrained. This has a major impact on the experience of our customers, increases operating costs and limits future expansion opportunities. For Tigerair to compete effectively at Sydney Airport and pass on those benefits to the travelling public, fair and reasonable access to available infrastructure, particularly at demand-driven times of day, is crucial.
"At present, no airline can operate in and out of Sydney without using the monopoly services provided by Sydney Airport and these pose significant cost to an airline's business. We simply can't wait for the medium or long term for solutions to appear – it's a highly competitive environment and we can't compete in this market with one hand tied behind our back.
"As the airline that provides Australian's with a 'fare go' when it comes to providing affordable air travel, all we're asking for is a fair go at Sydney Airport so we can continue to focus on creating a strong operating platform to support sustainable growth that brings healthy competition to the budget air travel market and benefits to consumers," said Mr Sharp.
Tigerair opened its base in Sydney in 2012 and has four aircraft currently based in Sydney. The current operation is impacted by infrastructure constraints which also impact on growth opportunities, with the base not growing in accordance with the original plan in order to achieve necessary scale to operate efficiently.
"Tigerair has been in ongoing negotiations with SACL for increased access to T2 and it remains Tigerair's firm intention to reach commercial agreement with SACL. In the event that commercial agreement cannot be reached, we would like to have the opportunity to make use of the arbitration process provided for in Part IIIA of the CCA, which was designed specifically for situations like this," concluded Mr Sharp.
The NCC now has up to 180 days to consider Tigerair's application for access declaration.
Throughout the declaration process Tigerair will continue to operate as normal and is hopeful of reaching a near term resolution on the issues raised through ongoing commercial negotiation with SACL.