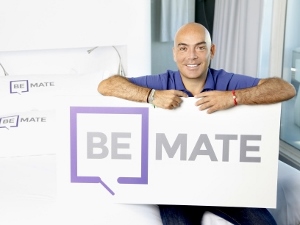 International hospitality brand Room Mate has announces the launch of BeMate.com, a new travel service that combines the amenities of a hotel with the privacy and convenience of an apartment to offer travelers a roster of comfortably appointed apartments with the support and services of a local hotel.
Launching with 2500 apartments in 10 cities across Europe and North America, all BeMate apartments are located within walking distance of a Room Mate or partner hotel, so guests can easily access a variety of perks typically reserved for hotel guests. Hotel services offered to BeMate.com guests include housekeeping, airport transfers, babysitting, breakfast, luggage storage and late check-out. BeMate.com guests can tap into the local hotel's concierge 24/7 to request additional supplies and help with troubleshooting, such as broken appliances and lost keys, negating the hassles that arise with traditional apartment rental services.
"Building on the success and rapid growth of the Room Mate brand, we were eager to offer consumers a new way to travel," said Enrique Sarasola, president and founder of Room Mate Hotels and BeMate.com. "In founding BeMate, my goal was to create a new service that seamlessly integrates the comfort and privacy of a home with the services of a traditional hotel."
BeMate.com's team personally approves each accommodation and owner to ensure quality and comfort for their guests. Guests booking a BeMate apartment arrange their entire trip through the company rather than coordinating directly with the apartment owner.
BeMate.com has plans to expand to 200 cities by the end of 2015 and will launch a mobile app for iPhone and Android users this year. Parent company Room Mate Hotels currently owns and operates 18 design-driven hotels across the world with plans to expand to 29 properties within the next two years.