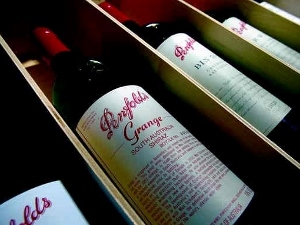 InterContinental Hotels Group has announced a new partnership with global wine company, Treasury Wine Estates, to offer a premium selection of wine from award-winning Australian marque Penfolds at more than 65 InterContinental hotels and resorts across Asia, Middle East and Africa.
The collaboration will bring a great new selection of fine wines to hotel dinner tables and bars, enhancing dining experiences across the region. InterContinental guests also can expect new programs and events specially tailored for the wine connoisseur in them, including exclusive wine flights, access to rare and limited wines and a bespoke wine list to match every dining occasion in each hotel.
Phil Broad, vice president, food & beverage, AMEA, IHG, said: "For many guests, a well-paired glass of wine, thoughtfully selected for their meal, is just as important as the presentation and taste of the food we're serving. It's an important part of the overall dining experience. This partnership with Penfolds, an iconic wine brand,
opens up a menu full of new options for our diners to choose from, as well as exclusive offers and events to truly explore their wine palette.
The training that the Treasury Wine Estates team will undertake with our team will really make the difference to ensuring our guests can enjoy the very best vintages and blends that we have on offer," Phil added. Hotel teams at InterContinental hotels and resorts across the region will undergo training by Treasury Wine Estates to provide curated wine lists specifically tailored for each restaurant, bar and lounge in the property.
InterContinental Hotels & Resorts will also have access to the entire portfolio of Penfolds wines including exclusive selections available in limited quantity. In addition, exclusive benefits such as invitations to member only events will be open to IHG Rewards Club members. Andrew O'Brien, general manager of South East Asia of Treasury Wine Estates, commented, "This new partnership provides an extensive platform to offer an exclusive selection of popular Penfolds wines to travellers and wine aficionados on the road. We look forward to working with the IHG Team to develop bespoke wine pairings for each hotel property to give guests an unforgettable dining experience with Penfolds wines." For 170 years, Penfolds has cultivated a reputation on winemaking excellence achieved through a unique alchemy of distinguished vineyards and viticultural caretakers, exceptional winemaking resources and a rich history of outstanding winemakers.
Penfolds collection of benchmark wines were established in a spirit of innovation and the constant and endless pursuit of quality, evidenced from the secret bottlings of Grange in 1951 and the unbroken line of vintages of what is now Australia's most iconic wine. IHG is one of the largest restaurant and bar operators in the Asia, Middle East and Africa region with more than 800 restaurants and bars across 37 countries, and another 200 restaurants and bars to be unveiled as IHG opens the 137 hotels in their pipeline. IHG's team of food and beverage experts are working on a number of new programmes to improve and enhance guests' culinary experiences across the company's portfolio of more than 240 hotels in the region.