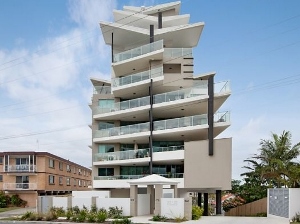 Unit owners in the Silverstone apartment complex at Tweed Heads on the Queensland-NSW border are facing having their five-year old building condemned.
Major defects including extensive corrosion are at the centre of an expensive legal battle between unit owners and the developer Villa World. It is understood it may go to mediation next year.
Villa World is rigorously defending the case in the Federal Court of Australia and has also launched a counter-action against some of the claimants involved.
Alleged defects include corrosion and rust, concrete cancer, mould, leaks, cracking tiles, flaking paint, rotting timber, unsafe stairs and improper fireproofing.
Unit owners' lawyer Jeff Garrett, of Attwood Marshall said experts had estimated it could cost up to $20 million to knock the complex down and rebuild.
Silverstone body corporate chairwoman Linda Carr said the body corporate has spent close to $1 million on legal fees and building reports, including one showing "high" levels of mould through the building.