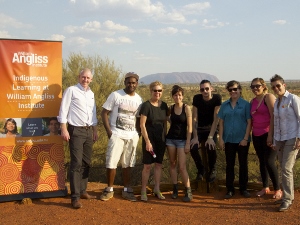 The indigenous workforce at Ayers Rock Resort has increased from less than 1 per cent in 2011 to 32 per cent in 2014 thanks to a partnership between specialist training centre William Angliss Institute and Voyages Indigenous Tourism Australia at Ayers Rock.
Last week the latest class of 42 trainees graduated from the National Indigenous Training Academy based at Voyages Ayers Rock Resort in the Northern Territory. The institute is the successful recipient of a three-year contract from the ILC for providing training at NITA aiming to increase indigenous employment to 50 per cent of the Ayers Rock workforce by 2018.
Through NITA at the resort, WAI has been delivering nationally accredited training in tourism and hospitality, along with business skills tailored to employment outcomes. William Angliss Institute manager of national training Karon Hepner, said in 2011 there were two indigenous employees at Ayers Rock Resort and there are now 254.
All trainees are employed in various departments at the resort including the finance centre, adult education centre, the town centre, technical services, guest activities, across three hotels and the campground. The positions include food and beverage, house-keeping, front office and porter services, kitchen operations, retail and grounds maintenance.
"A significant component of the training to employment strategy was to ensure the successful completion of the traineeship and transition into employment," Karon explained.
All trainees are given a job guarantee on successful completion of their qualification.
William Angliss Institute CEO Nicholas Hunt alongside VITA Chairman Lisa Gay presented the certificates with the William Angliss Most Consistent Achievement award presented to Dennis Milgate of ARR Guest Activities.
NITA with the Institute delivers training to more than 100 Indigenous trainees each year to complete the option of Certificate II in Hospitality or Tourism and Certificate III in Hospitality.
Regular intakes of approximately 16 trainees commence every six to eight weeks of the year. Trainees are accommodated at Yulara in dedicated trainee facilities and supported through mentoring and well-being programs. Indigenous trainees are recruited from across Australia including local communities through a variety of recruitment strategies. As part of their recruitment and selection process, trainees will have completed a range of pre-employment training.