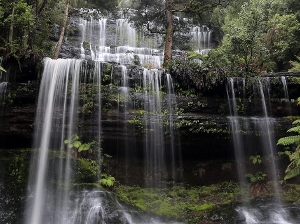 Efforts by the Tasmanian and federal governments to open up parts of the state's national parks to controlled envrio-friendly development to help fund upkeep of World Heritage Areas has met with extremes of opposing results.
The Tasmanian situation is being watched by other state governments faced with massive, ongoing bills for upkeep and staffing of NP facilities.
Federal environment minister Greg Hunt has claimed he will not compromise on Tasmania's world heritage values as a result of the state government's draft management plan for some Tasmanian World Heritage Areas that would allow some tourism developments. The title will be changed from 'wilderness' to 'natural' that will change the strict regulations placed on development in the region.
Ironically the furore comes as premier Will Hodgman opened a luxury hotel at Pumphouse Point at Lake St Clair, built inside a former hydro-electric building in a Wilderness World Heritage Area.
The tourism industry has welcomed the rezoning plan, while environment groups warned it would damage the state's reputation.
Mr Hunt said he is utterly committed to ensuring all world heritage values are fully and completely maintained. In a statement he said the commonwealth would assess any proposals which could have a impact on national environmental significance.
Earlier this year the United Nations' World Heritage Committee rejected the federal government's application to reverse protection for 74,000ha of wilderness – part of 170,000ha added to the WHA last year under the former state and federal Labor governments.
The Australian Greens are affronted and Greens leader Christine Milne said the state government had no appreciation for the value of wilderness and that she planned to take a complaint to the World Heritage Committee.
The Hodgman government wants tourism operators to take advantage of development opportunities inside national parks and WHA. It has received 37 proposals, including one from operator Ian Johnstone to build permanent hut-style accommodation along the South Coast Track bushwalking route, 110km from Hobart.
Mr Johnstone believes he can increase the numbers walking the track by between 1000 and 1500 people each year as, at present, to do the seven-day walk, tourists must carry a heavy pack including all of their own supplies.
Premier Hodgman is calling the eco-tourism push an economic game changer for Tasmania's job-starved economy. It could lead to resorts, cruises, helicopter flights and adventure sport tours. "We are looking after our precious natural areas but we're also going to use them to increase the number of tourists that come to this state, to grow our economy, to leverage off what is one of our great competitive advantages," Mr Hodgman said.
Outraged conservationists have objected to the management plan draft claims that the term 'wilderness' is 'deeply problematic for Tasmanian Aboriginal people and is conceptually alien to Aboriginal understanding of country'.