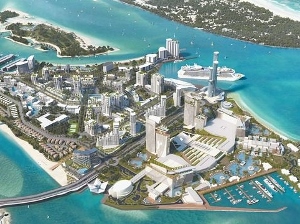 News
ASF committed despite Palaszczuk no-way pledge
ASF Consortium, the developer of the proposed $7.5 billion project to develop the Wavebreak Island cruise terminal said would revise its plans to save the project, according to local project director Tim Poole.
New Queensland premier Annastacia Palaszczuk has promised there would be no development allowed on Wavebreak Island.
Mr Poole said ASF Consortium is "fully committed" to its plans to develop Wavebreak Island's cruise ship terminal, casino and resort. "I think we are prepared to make more changes and have demonstrated in the past year that we have the ability to respond to different needs and make significant changes.
"We need clarity what election commitments have been made and this will be the starting point for discussions," he said. "Through the various communication processes we consistently find that between 60 per cent and 70 per cent of people support it and we have confidence in this."
An independent ReachTEL survey conducted exclusively for the Gold Coast Bulletin in the days before the election revealed that 40.8 per cent of locals would vote for a candidate strongly in support of the Broadwater proposal, while 53 per cent of voters aged between 18 and 34 would be likely to support a candidate campaigning for the ASF Consortium proposal.
ASF was announced by the Newman government a year ago as the "possible preferred proponent".
The development would have six hotels and would bring more than 15,000 permanent jobs to the region and deliver $21 billion of economic impact to the city.