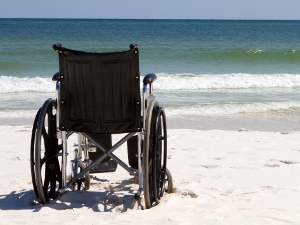 Making the accommodation industry accessible to all people regardless of physical limitation, disability or age is an ongoing endeavour.
Globally there are over 600 million people with disabilities: this equates to about 10 per cent of humanity. Approximately 20 per cent of the Australian population has a disability and, according to the Australian Bureau of Statistics, 520,000 have a mobility disability, 480,000 are blind or vision impaired, and one million are deaf or hearing impaired.
When you consider these figures you realise how crucial it is for the accommodation industry to meet the needs of all its users not just because of social responsibility but because the demand for accessible accommodation is a rapidly growing market. It is simply vital that Australia's accommodation industry becomes much more accessible to disabled travellers.
According to research by the Department of Resources, Energy and Tourism, demand for accessible accommodation in the industry will grow at an average annual rate of 2.2 per cent. The data also shows that people with disabilities tend to stay longer when booked into accommodation and tend to travel with at least one other person. With the growth of Australia's ageing population, there is an increasingly growing market for accessible accommodation that caters to different needs.
Accessibility requirements for people with a disability have been included in building legislation and technical codes for a considerable time but in 2011 more stringent requirements were inserted into volume one of the National Construction Code.
The National Construction Code applies to all new buildings used for accommodation providers throughout the industry and for all new building-work on existing buildings – even minor alterations. A spokesman from the Australian Building Codes Board advises that at present the ratio of accessibility within the industry is 10:1 but he claims that the "requirements in the national code are due to be renewed next year"
The present code was approved after extensive consultation with disability and human rights groups, the building industry and a large body of research. Presently the code goes a long way in addressing the shortfall of accessibility found in the industry for those guests with a disability. It covers accessibility to all public areas including pathways from the car park and ensures that a proportion of guest rooms are easily accessible from either the ground floor or via lifts.
It also includes building and design legislation that requires wider doorways to permit wheelchair access. The guest rooms should also have accessible light switches and electric sockets, suitable bathroom and kitchen facilities with a turning circle for wheelchairs. However, the present code does not cover furnishings.
There are many other shortfalls apart from furnishings that the industry needs to address if it intends to provide the very best experience for disabled travellers. Throughout the building design process, focus may be on meeting the most basic legal requirements of the building code and ease of accessibility for disabled guests with little thought put into enhancing the environment so that disabled guests can enjoy the best experience possible.
Accessible rooms tend to be in locations that are closest to the lift, which unfortunately separates them from the nicest views. This is something building planners should consider as it may turn disabled guests away from a property. Even though the layout of an accessible guest room meets the building requirements, it could still be unappealing, uninspiring, or fail to be as luxurious as other rooms in the hotel. If this room offers a totally different experience to that enjoyed by guests staying in non-accessible rooms this is something that should be addressed.
The code states that accessible rooms are not required to be held for the sole use of guests with a disability, nor are providers required to determine the nature of the accessibility requirement of someone requesting a room. This means that in busy periods managers cannot hold an empty room for a prospective disabled traveller so there are times when a last minute disabled traveller cannot find suitable accommodation to meet their needs. Although research does show that disabled travellers do indeed tend to plan more rigorously than able-bodied travellers, they also book well in advance and they travel more often than non-disabled guests.
At present, the industry fails to wholly provide for those with particular needs like hearing or sight loss, but this could easily change. The New Zealand Tourism Research Institute conducted an online survey which received 198 international responses, 167 domestic responses and ran for five months in 2011.
The surveys were aimed at travellers with hearing loss and the key findings showed that disabled travellers took twice as many overnight trips as the general domestic population and the majority travelled with at least one other person. More than half of respondents agreed they would take more trips if the level of service for people with hearing loss was improved and over two-thirds of domestic respondents found it difficult to find information about disability-friendly rooms accessible to people with hearing loss.
More and more disabled people are able to relish travel opportunities, which in turn means there is a much greater opportunity for the tourism industry to benefit from longer seasons and new incomes if they are more creative with the buildings and services they offer. More accessible accommodation benefits society as a whole as it offers new job opportunities, more revenue and an accessible environment inclusive to people across the world with any special needs or requirements.