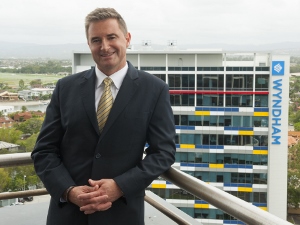 Queensland needs to continue to invest in the state's infrastructure to cope with a projected boom in Asian tourism, says president and managing director of Wyndham Hotel Group, Barry Robinson.
Mr Robinson made the comments at the Property Council of Australia's recent Foreign Concepts forum in Brisbane. It was the first in a series of tourism breakfasts with key players in the international investment and Queensland tourism projects arena. The forum attracted more than 80 leading Queensland property and tourism industry professionals to discuss, debate and unpack the benefits and challenges of foreign investment in Queensland's tourism sector.
Mr Robinson was a keynote speaker alongside Josef Seidler, group property development director, Echo Entertainment Group Ltd.
He spoke about the critical importance of improved infrastructure in Queensland and across the nation to support the projected tourism numbers coming out of Asia. "The link between Brisbane and the Gold Coast needs major improvements via an enhanced road network and / or the introduction of a high speed rail network system that seamlessly links with the Gold Coast's Light Rail system. Without these improvements we will not be able to cope with the projected visitor numbers from Asia," said Mr Robinson.
He also spoke of the importance of Queensland's tourism professionals to become more 'China ready'. "Queensland requires a tourism labour force with both Mandarin language and high-level service skills to fully capitalise on tourism projections and expectations from the new generation of Asian tourists," said Mr Robinson. "As much as travellers are craving new cultures, they will always seek out their cultural comfort zone. Queensland does not yet have enough of a decent offering of neither Chinese cuisine nor multilingual services."
Mr Robinson said there was huge opportunity for Queensland if government focussed on better infrastructure, safer streets for tourists at night and on supporting the development of a more service focussed hospitality offering.
Barry Robinson has spearheaded a significant amount of development in the tourism sector over the past 13 years with Wyndham. He oversees a portfolio of more than 81 hotels across South East Asia and Pacific Rim, 11 of which are in Queensland. He has held a number of senior leadership roles in hotel development, management and franchising in both China and Australia. The company's latest project – a 531 room mixed-use hotel development in the Melbourne CBD – was a joint venture with Hengyi Australia, an affiliate of Shandong HYI (Group) Co Ltd, an award-winning residential and commercial developer based in China.