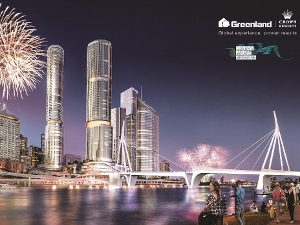 News
Palaszczuk's development blocks cause concern
Queensland premier Annastacia Palaszczuk has thrown more uncertainty into the state's accommodation developers' plans after putting Brisbane's casino project at risk.
Ms Palaszczuk asked her government to investigate plans by Echo Entertainment's Destination Brisbane Consortium and James Packer's Crown/Greenland for the development of the Queens Wharf site. But she has refused to publicly detail what "issues" she wants investigated. The two casino bidders have not specifically been told what the issues are.
"My government is committed to seeing the redevelopment of that site," she said. "However, I do have some issues that I've raised with the department and I want them to investigate those issues first before I make further comment."
Ms Palaszczuk stressed the investigation would not require the overall process to be paused.
"But it's going to create thousands of jobs, we do need the associated benefits of that in terms of hotel accommodation, so that is needed, the jobs are needed and at the moment that is also going through the right probity checks."
Infrastructure Association of Queensland executive director Roger Black warned that business confidence in the state was already "fragile" and said Ms Palaszczuk's remarks "probably erodes confidence".
Meanwhile Gold Coast mayor Tom Tate has urged Ms Palaszczuk to rethink her out-of-hand dismissal of the planned $7.5 billion cruise ship terminal.
"Four days before the election the now premier put the referendum to the city of the Gold coast that a vote for Labor was a vote to stop the cruise ship terminal," Cr Tate said. "Well I say to you, the Gold Coast has spoken. LNP gained one additional seat. What does that mean. It means 10 out of 10 LNPs who pushed for the cruise ship terminal.
"The mandate of this city is to ask the premier at the very least to look at the process of the cruise ship terminal for the city."
Ms Palaszczuk has also rejected any plans for a second island could be built in the Broadwater if the state government keeps her promise to block an integrated resort proposal on Wavebreak Island.
ASF Consortium, the developers of the $6.5 billion proposal, say they've yet to have any formal confirmation the project is "dead in the Broadwater".
ASF Consortium executive director David Fang said, "What we are desiring is to go through the process so the new government has time to understand the project. We are still committed, but we can't stay committed forever doing nothing. The new government doesn't understand the scale and size of the project. "