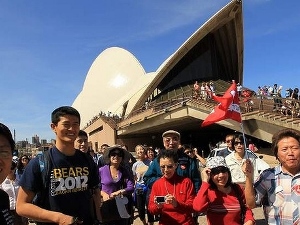 InterContinental Hotels Group has partnered with Oxford Economics to publish one of the most comprehensive studies into the Chinese travel market ever undertaken.
The report reveals the scale of the opportunity for global travel destinations to benefit from shifting patterns in Chinese travel, with London, New York, Los Angeles, Tokyo and Sydney expected to benefit most – with Melbourne and the Gold Coast in Australia also due to see an uplift.
The Future of Chinese Travel report shows that favourable economic and demographic trends shaping the Chinese travel market are set to fuel huge increases in demand for international travel over the next decade. It also reveals the opportunities this growth will present, as Chinese traveller preferences evolve towards long-haul, leisure-driven travel.
The study reports that increases in leisure and retail spend will contribute to significant increases in the value of Chinese travellers to local economies; particularly Australia which is one of the top spending locations for the Chinese. Holiday trips proved to be the most popular purpose of travel for Chinese visitors to Australia, generating the highest average per-night spend ($449 nightly) compared to other travel purposes. Sydney and Melbourne are named amongst cities with the highest lengths of stay compared to other long-haul city destinations in the Asia-Pacific region.
By 2023, it is projected that Chinese arrivals in Australian cities will increase dramatically:
• 109% increase in Melbourne
• 98% increase in Sydney
• 90% increase in Brisbane
• 86% increase in the Gold Coast
Richard Solomons, chief executive officer of IHG, commented,: "This is a ground-breaking piece of research, which demonstrates the sheer scale of the 'China outbound' opportunity for cities and local economies worldwide. With the shift towards leisure travel, coupled with the 90 million Chinese households able to take long-haul trips by 2023, the country's growing importance in the global travel market cannot be underestimated. With 30 years of experience in China, the recent launch of our new Chinese brand, Hualuxe Hotels and Restaurants, and the roll-out of our China Ready program, IHG is well-placed to meet this growing demand."
Karin Sheppard, chief operating officer, IHG Australasia, Japan & Korea said, "China is one of Australia's most valuable inbound markets and every year we welcome a large number of Chinese travellers at our hotels throughout the country. Today nearly 50 per cent of our hotels here are China Ready accredited and we will grow this number alongside the growth that we can expect from Chinese guests."
The Future of Chinese Travel report: Key findings

Scale of the opportunity
 Annual arrivals from China will total nearly 97 million by 2023 (an increase of 5% per year)
 Melbourne arrivals are projected to increase by 109% by 2023
 Sydney arrivals are projected to increase by 98% by 2023
 Arrivals to Australia from China will total over 1 million by 2023
 88 million Chinese households will be able to travel overseas by 2023
Increase in family income is the key driver behind this change
 In the next decade, over 60 million Chinese households will cross the annual income threshold of $35,000, at which point international travel becomes more affordable
Three key trends in Chinese travel will emerge over the next 10 years
1. Chinese demand for long-haul travel will experience huge levels of growth
o China will overtake the US, UK and Germany to become the largest source market for long-haul travellers by 2020
o As Chinese tourism demand matures, preferences will shift toward more expensive, longer-haul trips
2. Chinese travellers will mix business with leisure
o By 2023, nearly two thirds (62%) of total Chinese outbound travel will be leisure-driven – a major shift in the purpose of travel for outbound Chinese away from business
3. Chinese travellers will spend more during overseas trips
o Per-trip spending by Chinese travellers is expected to grow nearly 75% in nominal terms by 2023
o Sydney (2.2% CAGR) and Melbourne (1.9% CAGR) are amongst the top 25 city destinations globally which will see increase in Chinese traveller spending by 2023
o Continuing shift in preferences towards higher-cost accommodation and upscale shopping
International cities set to benefit most
 Cities are the primary destinations for Chinese outbound travellers, with over 85% heading for major cities around the world
 Nearly 95% of total Chinese outbound travel spending is received by major global cities
 Among top destination countries, major cities alone receive almost half of each country's total Chinese visitors
Access is key to attracting Chinese tourists
 Destinations with easier access, including simpler visa policies will gain most
 Reforms affecting Chinese travel show levels of arrivals to be 20%pts above historical trends
In Australia alone, 11 properties are China Ready accredited, including:
 Holiday Inn Parramatta
 Holiday Inn Potts Point Sydney
 InterContinental Sydney
 Crowne Plaza Melbourne
 InterContinental Melbourne The Rialto