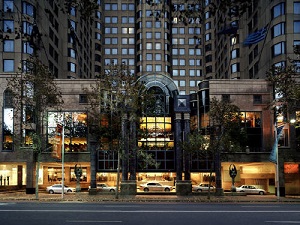 News
Australia tops hotel investments
A key target market of Chinese capital, the Australian hotel investment market witnessed transaction volumes rise 86 per cent in 2014 to total a record US$2.2 billion, according to JLL's latest Asia Pacific Hotel Investment Highlights report.
All-in-all 146 hotel deals were completed across the Asia-Pacific region last calendar year totalling US$7.5 billion, led by sizable deals in Japan and Australia. The sale of the Sheraton on the Park in Sydney (pictured) at US$398.2 million (AU$463 million) led the way in terms of the big deals completed. China based company Sunshine Insurance Group Corporation purchased the five-star CBD asset.
"There were quite a few large scale transactions in Australia last year including the Sofitel Sydney Wentworth for $A201 million and the Sheraton Noosa Resort and Spa transacting in excess of US$100 million," Peter Harper, senior vice president – investment sales, JLL's Hotels & Hospitality Group, said. "What we are now seeing is the traditional capital source markets from South-East Asia being complimented by new investment from China in particular. "This has noticeably increased competition for Australia's prime hotel assets and we expect to see another interesting year of deals in 2015."
While Australia led the way with record high transactions, activity in Asia was dominated by Japan with US$2.3 billion worth of hotel deals, followed by Mainland China at US$1.4 billion and then Thailand at US$338 million.
This overall decline in investment activity in Asia partly reflects a geographic shift of investment focus to recovering and emerging markets such as the Americas and Western Europe by Asian capital, rather an a diminishing interest in local hospitality assets. The lack of investment opportunities in Asia last year compared to 2013 was also a key factor in reduced volumes. Total transactional volume in Asia Pacific totalled US$3.7 billion in the second half of 2014, a 34 per cent decline on the same period in 2013.
"Transactional volumes were up in Australia as a result of the several significant hotel sales," Mr Harper said. "The average price per key in Australia in 2014 was $292,000, up 24 per cent, in comparison to the rest of Asia where it was $201,000 per key, down 35 per cent year-on-year; led by the sale of the Sheraton on the Park which was a new record for a single-asset hotel sale in Australasia. "This simply reflects the lack of large scale transactions in the rest of Asia."
During the second half of 2014, Asia Pacific investment activity was dominated by Australia (US$1.6 billion) and Japan (US$1.2 billion). Arm's length transactions in mainland China amounted to just US$250 million, further highlighting that Chinese investors prefer to purchase abroad on strong trading fundamentals. The most active market by number of properties sold was Japan with more than 100 hotels trading, many as part of a portfolio deal.
"Looking forward, there's no doubt that Australia will continue to be a major focus of Asian based global investors, with a return to favourable exchange rate levels and a perception of better value when compared to other global gateway cities adding further incentive to the already attractive market fundamentals." concluded Mr Harper.