News In Brief
Five start-up ideas that could revolutionise your accom business model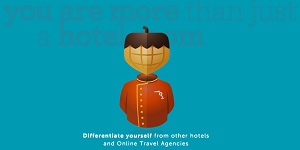 Ideas like these could be the next big thing for the accommodation industry as technology continues to evolve.
1. Travelnuts
Offer guests more than just a place to sleep. The idea behind this app is to maximise an accommodation provider's revenue by letting them upsell products, services and experiences to their guests. Essentially you are the ones earning commission!
With apps like Travelnuts, you're able to target your guests from the moment they book with you, recommending activities, restaurants, shows, etc., that they can purchase through you.
According to the app creators: "Travelnuts manages the sourcing, personalisation, distribution, and fulfilment of the activities. Hotels can now delight their guests with a whole new set of offerings and substantially increase their direct revenues at no additional cost."
2. Popular Pays
A new way to monetise social media. With this app, companies pay or reward influencers on social media to promote their brands on Instagram.
There are two ways we can see this type of app being useful to accommodation providers. It seems you could use your property's Instagram page to advertise for your vendors as part of an arrangement or transaction.
Alternatively you could engage your guests by rewarding them for promoting you online as part of a "campaign".
According to the app creators: "Use the dashboard to track all of the relevant data about your campaign's effectiveness. You can reuse our influencers' photos on your own Instagram page, Facebook, website, etc. If content is a priority, your campaign can ask them to supply extra photos beyond the ones they post."
3. Privitar
Data analytics that protect user privacy. This idea focusses on how companies can capitalise on big data while maintaining the privacy of users. It could be a revolutionary concept for accommodation providers as guest satisfaction and privacy is paramount.
With this platform, statistical techniques are used to analyse patterns, identify misuse or non-compliant behaviour, and extract value from sensitive material while preserving user anonymity.
Apps like this could find a happy medium between establishments that want to monetise data and customers who want their privacy.
According to the app creators: "Data free of private information is easier to monetise, a robust approach to data protection regulatory mandates is required, and privacy as a competitive differentiator."
4. Boundlss
Spotting your team's behaviour patterns. The idea behind Boundlss flips big data on its head. Rather than identifying and analysing consumer trends to streamline your business, this platform focusses on company productivity.
Drawing from the same data tracking technology used to collate consumer information, this concept is to create an accurate model that illustrates how well your business is performing.
For an accommodation provider this could be a useful way to track progress, particularly for larger properties. Tracking housekeepers' geo-locations, for instance, would allow you to trial different products (types of vacuum cleaner, etc.) and compare productivity.
According to the app creators: "To do this we're building a behaviour analytics platform that spots the key patterns of insanely great teams and provides personalised recommendations to help people succeed."
5. Wonolo
Think on-demand staffing. The company name stands for "Work. Now. Locally." and that is its premise: daily staff solutions. A particularly nifty idea for smaller properties, this app connects businesses with skilled workers who may be in-between jobs, retired, or looking to pick up some extra cash.
Rather than have to fill-in yourself if your receptionist or housekeeper is running an hour late, or had to leave a few hours early for a doctor's appointment, Wonolo connects you with someone who can fill in the gap.
According to the app creators: "Wonolo allows companies to manage unpredictability by augmenting their existing labour force with hourly to daily Wonoloers who can come in within an hour and do the job."