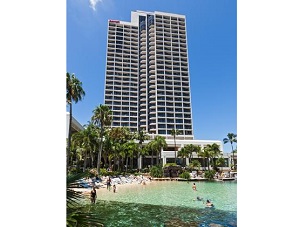 The Marriott Vacation Club has purchased the 28-storey Surfers Paradise Marriott Resort and Spa for around $85 million. McVay Real Estate managing partner Sam McVay confirmed the sale by the Rajawali Property Group of Indonesia.
Rajawali bought the site for $67.4 million in 2009 and has spent $20 million on refurbishments since acquiring the hotel.
The sale comes just days after Tony Fung bought the Gold Coast's Sheraton Mirage for $160 million with plans to turn it into a luxury casino resort. This venture depends on a new casino licence agreement and probity approvals in ongoing closed-door negotiations with the Queensland government.
The Aquis developer has invested heavily in Queensland including the $15.8m purchase of Patinack farms in the Gold Coast Hinterland, a development and Bond University and two other sites in Surfers Paradise.
Meanwhile, the federal government gave environmental approval to the $8.15-billion project for the construction of Aquis Great Barrier Reef Resort, which is to be located at Yorkeys Knob north of Cairns.
Pat Flanagan, who was appointed as project director back in February, said that it might take months before the state government gives Aquis the necessary approval. Mr Flanagan explained that after the environmental and planning matters were settled, the only thing that needs finalisation is the casino agreement.
Mr McVay also confirmed that expressions of interest campaigns had just come to a close at both the Hilton and Crowne Plaza and sales looked promising.