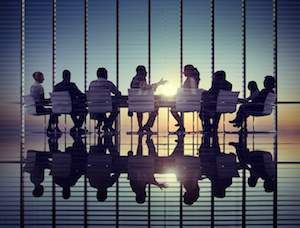 If your conference facilities don't meet the needs of these business people, your business could end up missing out on valuable guest opportunities. An excellent conference facility has a spacious, clean layout, a pleasant esthetic and state of art technology and equipment.
According to conference technology expert company, Multi-Media Systems Ltd, "Until the early 1990s, we remained focused on creating a strong reputation for dynamic visual presentation delivery". This is because, back in the early 1990s, the audio visual equipment found in a conference room was the main attraction and usually consisted of an overhead projector for large transparencies and a manual pull down screen. Even the more advanced facilities only had an electric screen and a LCD projection panel that sat on top of the OH projector in place of the transparencies so that computer images could be projected. Most industry professions will remember how the lights had to be turned off to see the projected images because the projection light was so dim.
Today, however, there is more to think about. A good conference room should be private, separate from the rest of the building, either by a wall or screen and if possible, soundproof. There needs to be space enough for a lot of people, a single long table is the most common choice, or a large round one. Windows are always problematic on a conference room: people work better when exposed to some sunlight but at the same time, sunlight disrupts the projection light and makes it difficult to view anything on a screen, including laptops and ipads. The ideal answer here would be installing an electric screen shade, allowing presenters to control the level of light in the room. Of course, air-conditioning and heating are a must to ensure to comfort of guests, and dimmer controlled indoor lights allow the facility to adapt quickly to the needs of those guests.
Two blank walls should be placed at opposite ends of the room, and one of these walls, ideally there would be an electronic, or interactive whiteboard.
These are computers, projection screens, and whiteboards rolled into one, with the most popular brands being SMART Board, ActivBoard, eBeam, Mimio, and Webster. Depending on the brand chosen, the boards can be written on with pens, dry-erase markers, fingers or any number of instruments, and there are various additional accessories to fit most needs. They connect to a printer, so notes written on the whiteboard can be printed out and distributed to all and most newer boards also connect to a computer, where notes can be saved and shared as a file.
Laptops and multimedia devices should ideally all connect so they can interact easily with the digital material. Notes, reports, miscellaneous files, all saved and shared online during the meeting will not remain saved to the board itself so that when the meeting is finished, the reset room function straight away clears the whiteboard, closes all conferences and applications, leaving the facility prepared for the next meeting.
If a regular pull-down projection screen is also desired, search some of the manufacturers online, as they have formulas posted that will help select the screen dimensions you will need, remembering that the bottom of the screen will have to be four feet above the ground. The projector must be able to handle an interchangeable lens should there be an air vent, light fixture, or ceiling beam support preventing installation of the projector mount at the proper throw distance. Keystone adjustment would be of great use, were the projector not to be centered on the screen.
Commercial projectors are usually much brighter than home projectors, because conference rooms have so much ambient light. The actual lumens of the projector is determined by the light intensity of the room: LCD projectors put out more light than their DLP counterparts, making them the more obvious choice for conference rooms. Also good to note, DLP has a smoother image for action scenes, but most business applications are static so a LCD projector would again be more apt. A 1024 x 768 (or greater) resolution projector is what should be recommended, as most business images are at this resolution or better.
Speakers and microphones also need thinking about; speakers should be kept in the ceiling, spaced for even sound throughout the facility, microphones should either be placed at either end of the table, near the projector screen, etc, or at each chair depending on the expected use of the room.
Ultimately, for any accommodation providers currently, or in the process of, offering a conference facility as part of their guest experience, the technological aspects and the layout of your facilities should be top notch, otherwise, repeat business guests may be few and far between. By taking note of whats on offer and doing some research beforehand, the ideal conference room could be yours.