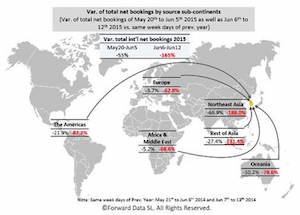 The recent outbreak of MERS (Middle East Respiratory Syndrome), which initially caused flight bookings to South Korea to plummet is now having an even greater impact as a wave of cancellations is spreading across Asia, according to latest figures from ForwardKeys which monitors future travel patterns by analysing 14 million reservation transactions each day.
Olivier Jager, Co-founder and CEO, ForwardKeys, said: "The MERS outbreak is having a truly dramatic impact on travel to and within Asia as cancellations to South Korea are spreading worldwide and in Asia in the week of June 6-12 there have been more cancellations than bookings." In the week of June 6th – 12th, net bookings, i.e. bookings – cancellations, fell by 188% from Northeast Asia and by 131% from the rest of Asia. Net bookings from all other continents fell by over 60%.
During the same period, Taiwan, Hong Kong, and China continued to lead the substantial cancellation trend, with declines in net bookings (i.e. bookings – cancellations) of 329%, 298% and 182% respectively. After issuing a "red alert" against Korea on June 9, Hong Kong saw double the number of cancellations for the following three days compared to last year. Japan is the only country in Asia that has seen a positive volume of net bookings daily.
The wave of cancellations of travel to South Korea is now affecting July. In June net future bookings fell by just over 40% in the week of June 13th and now the first week of July has ~3% fewer net bookings than at the same time last year.