News In Brief
accomnews gives you the low-down on HotelsWorld 2015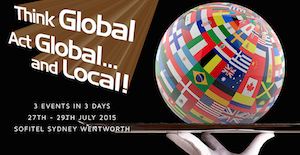 With over 450 CEOs and other industry decision-makers in the audience, plus more than 100 eminent global and local speakers on the stage, we were in the right place for industry insight and ideas.
On Tuesday, accomnews attended day two of the HotelsWorld Australia/New Zealand 2015 event at the Sofitel Sydney Wentworth, where the theme was "think global, act global… and local".
The event was hosted by Horwath HTL Australia and promised to address key issues, trends, opportunities and people in the world of hospitality.
We live-tweeted all day @accomnews so please follow us! We were very excited to pass on the highlights real-time, including tips, quotes and information. However, our full article covering the three day event, delving more deeply into the issues raised, will appear in upcoming issues of Resort News and AMG.
For now, here's a quick rundown of all the highlights:
The morning kicked off with event organiser John Smith announcing, "I have resigned from Horwath HTL to head up HTL Capital Advisers". He promised us the "best cast of speakers ever" this year!
The first forum involved a discussion of data, facts, figures and new trends. Data highlighted that occupancy trends in the Asia Pacific region are the highest in Thailand, New Zealand and Japan so far in 2015 with Australia placed 7th highest in the Asia Pacific.
Jesper Palmqvist, the area director of Asia Pacific STR Global (Singapore), also stated that in Darwin, Adelaide and Brisbane there is "too much supply and not enough demand". According to Mr Palmqvist, tourism in those areas "needs to grow if occupancy wants to grow". In Sydney and Melbourne on the other hand, he described how the demand is so high that occupancy is now approaching pre-Global Financial Crisis peaks.
Dean Dransfield, the managing director of Dransfield Hotels & Resorts, added that he was "not anticipating substantial downgrades for the overall market in the next forecast".
The panel all seemed to agree that Sydney has massive opportunity for development and Melbourne follows closely with great investment opportunities.
Other data showed that to attract those sought-after millennials, the most important offerings were free "impeccable" wifi, self-service check-in and 24/7 convenience food!
Wearable technologies were predicted to go mainstream in 2015-16 and some discussion took place as to the effects of this on the industry. How many wearables do you own? Expect this to increase and we aren't talking about smartwatches… Think helmets, pet collars, clothing, shoes, hearing aids, glasses, fitness bands and more that are all connected to the internet.
Another trend is the FIT traveller – the Free Independent Traveller! Especially relevant are the Chinese FIT as they make up 20% of all Chinese travellers.
One of the innovative new apps that may affect the industry invokes the phrase, "The later you wait, the better the rate", and that is the app called Hoteltonight. It is different because it lets guests monitor rates in a particular location in "real-time", the impact of which will be interesting.
"Poshtel" was the new buzzword – these are posh hostels – backpacker hostels glammed up to attract slightly bigger spenders. Offering a social access experience that is more family-friendly than the traditional hostel, this is a relatively new provider swooping in from the UK to compete with boutique hotels.
Simon McGrath, chief operating officer from Accor Pacific, advised that the "ability to invest in digital is the key" to remaining competitive in the market.
Next up was a CEO forum, where four global CEOs, including Iqbal Jumabhoy form Silverneedle, Christopher Hartley from Global Hotel Alliance, Girish Jhunjhnuwala from Ovola Hotels (Hong Kong) and Bob East from Mantra Group. They all sat down with Carol Giuseppi (NSW director, acting CEO, Tourism Accommodation Australia) to talk leadership and ideas.
There were some key strategies for success and some great advice shared. Bob East advised that "building a global platform" is vital but "being authentic is probably your biggest selling point". Iqbal Jumabhoy pointed out that "business travellers want consistency while leisure travellers are more individualistic". Girish Jhunjhnuwala said to "bring local culture in" but also "act global", stressing the importance of providing high bandwidth and sockets for guests.
When Geoff Ballotti, CEO and President of Wyndham Hotel Group (USA), was interviewed he was asked what was on his mind and his response caused collective squeals from the audience when he described the painful dental procedure that almost prevented his attendance! "Product consistency is vital," he advised, "you are only as strong as your weakest link."
Do millennials or old dudes rule? This was the question put to the next panel of industry analysts and consultants as both demographics are key demand drivers. How can the industry attract and retain each of them? We'll be going over this in some greater depth next week as there were lots of great ideas!
The "Budget Bliss" talk looked at the economy sector and their future. Zest's Gavin Faull, chairman & president at Swiss-Belhotel International, admitted that "loyalty is a challenge" but he believed OTAs were "providing so much business".
On Airbnb, CEO Choice Hotels Australia Trent Fraser said: "If Airbnb is getting more people to travel, it is a good thing – it means we have to just do better to compete."
Ho Kwon Ping, executive chairman of Banyan Tree, won the Global first Award for his Banyan Tree property in Phuket.
His award-winning quote was: "Emotional resonance is at the heart of building a brand" and he shared funny and poignant anecdotal advice. He is someone we would sincerely love to interview!
Ovolo Hotels and Mantra Hotels were joint winners of the under $50m deal of the year, while Jerry Schwartz won the over $50m deal of the year for the new Sofitel property at Sydney's Darling Harbour.
A series of interesting speakers made followed, making some interesting statements:
"Fairmont Raffles would like to be in the key Australian Cities," stated Wayne Buckingham, senior vice president, Asia Pacific, Operations, FRHI & Resorts (Singapore).
High labour costs are one reason that Trump Hotel Collection isn't focused on Australian hotel development according to Dan Wakeling, senior VP global hotel development & acquisitions, Trump Hotel Collection (USA).
John O' Sullivan, CEO Tourism Australia, talked about how tourism is second only to the resources sector in value to the economy.
The much anticipated OTA face-off between Expedia Australia, Airbnb and the CEOs of TFE Hotels and Wyndham Vacation Resorts Asia Pacific kicked off in the final panel of the day! You can read accomnews' take on this showdown in Thursday's newsletter.
EDIT: In an earlier version of the article, Jesper Palmqvist, the area director of Asia Pacific STR Global (Singapore), was quoted as saying there is "too much supply and not enough demand" in Australia when he in fact was referring just to Adelaide, Darwin and Brisbane. John Smith was also said to have moved on to HTC Capital Advisers rather than HTL Capital Advisers.