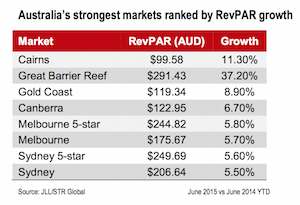 News
Australian hotel transaction volume nears $2bn
The Australian hotel investment market has seen transaction volume reach around $1.9bn, a 150 per cent increase over the same period last year.
Sales volume so far this year has almost reached that of the record $2.5bn that transacted in all of 2014.
"Transactional activity has been buoyed by two high-profile Sydney deals, namely The Westin Sydney, transacting at approximately $445m – recording the highest price per room for a large scale hotel ever achieved in Australia, and the Hilton Sydney which recently sold for AU$442 million." said Craig Collins, CEO – Australasia, JLL Hotels & Hospitality Group.
Mr Collins added, "This level of demand is also being felt across the wider investment market with flow-on effects for both major cities and regional hotel assets. Cairns has been an active investment market with the Pullman Cairns International and Pacific Hotel Cairns both transacting, while in Brisbane two landmark sales took place, being the Next Hotel and Adina Apartment Hotel."
The Perth and Melbourne markets haven't been as active as other markets so far this year; however this is expected to change with some quality hotel stock likely to transact in the balance of 2015.
"Continuing the trend over the last three years, Asian investors have dominated hotel investment activity accounting for approximately 65 per cent of total transaction volume, year-to-date. It is expected that Australia will continue to be a major focus of Asian based investors with favourable exchange rates and a strong tourism demand outlook presenting a more attractive investment opportunity when compared to other investment destinations globally," commented Mr Collins.
For year-to-date June 2015, most major Australian hotel markets have posted RevPAR growth, according to latest STR analysis. The Sydney and Melbourne five-star markets continue to be star performers, with Sydney up 5.6 per cent($250) and Melbourne up 5.8 per cent ($245).
The Queensland leisure markets however have displayed the strongest RevPAR growth, with the Great Barrier Reef increasing 37.2 per cent to $291 – the highest in the country, Cairns growing by 11.3 per cent ($100) and the Gold Coast rising 8.9 per cent ($119) over the same period.