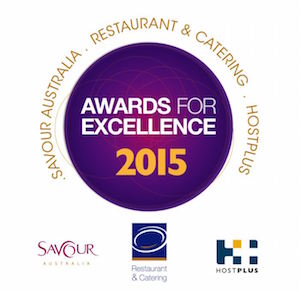 News In Brief
HOSTPLUS Awards for Excellence winners announced in Melbourne
More than 520 guests gathered at Peninsula, Docklands 
and the winners of the major award categories were announced as follows.
The best restaurateurs, caterers and café operators in Victoria and Tasmania have been announced at the Savour AustraliaTM Restaurant & Catering HOSTPLUS Awards for Excellence held in Melbourne from 6:30pm this evening.
• Omy Restaurant, Beaconsfield – Restaurant of the Year – Victoria;
• Me Wah Restaurant, Sandy Bay – Restaurant of the Year – Tasmania;
• Fenix Events, Richmond – Caterer of the Year;
• SkyHigh Mount Dandenong, Mount Dandenong – Consumer Vote Award – Victoria Regional/Tasmania;
• Bright Young Things, Cremorne – Consumer Vote Award – Victoria Metropolitan;
• Don Cameron from Mud Bar & Restaurant in Hobart was honoured with the Lifetime Achiever award.
In addition to their major awards, Me Wah Restaurant, Sandy Bay also won best Asian Restaurant while Fenix Events, Richmond won the Function / Convention Centre Caterer category.

Restaurant & Catering Australia (R&CA) CEO John Hart congratulated all of the winners who were judged as the best in their chosen category.
"The winners should be proud of their achievements. The dining experiences in Victoria and Tasmania are world-class. The winners tonight make a significant contribution to the industry and our reputation, as a destination for great food and wine.

"
"The Awards for Excellence provides an opportunity to promote the fantastic produce and wine grown in these states. R&CA has had a long standing relationship with Melbourne Food & Wine Festival, and the put Victoria on your table campaign encourages operators to promote and source local produce and wine. Local produce is a key selling point for international visitors and avid food enthusiasts.

"I thank all the operators who participate in the Awards for Excellence program for their passion, commitment and dedication to their craft," said Mr Hart.
Stewart White, Chair of Judges for the Awards for Excellence, said it is important to note that businesses are judged using criteria established by their customers.
"Knowing your customer and exceeding their expectations is pivotal to success. The Awards for Excellence provides a benchmark for this success. Businesses need to serve great food, to evolve and innovate, and invest in their staff. The Awards for Excellence criteria are determined by consumers who rank what is important to them in the dining experience.

"
The Victoria / Tasmania Social Media Awards, which aims to encourage and recognise the use of social media, was awarded to The Pancake Parlour in Victoria, which generated the most posts on Instagram using their registered hashtag.

Mr Hart said the industry cannot ignore the power of new communication platforms to engage with their customers.
"The digital age is upon us, with the use of Smartphones growing exponentially in Australia with Smartphone ownership estimated at around 81 per cent. It's great to see operators embracing technology and finding new ways to engage with customers," Mr Hart said.