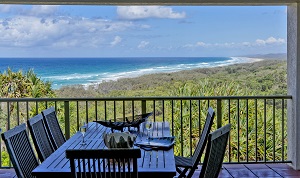 Profiles
Big challenge overcome by new Straddie couple
The challenge of renovating Whalewatch Ocean Beach Resort is a new manager's greatest achievement yet…
Just thirty kilometres southeast of Brisbane, reachable by car or passenger ferry, is North Stradbroke Island known colloquially as Straddie. It is the second largest sand island in the world with three small towns, two pristine freshwater lakes, beautiful beaches and rocky outcrops at Point Lookout. There is so much to do and see on Straddie including whales, dolphins, manta rays, turtles and a huge array of native birds. Kangaroos and koalas are a part of the everyday scenery.
Whalewatch Ocean Beach Resort is set elevated along the coastline, at the pinnacle of Point Lookout, to provide the most advantageous spot possible for whale watching. The apartment balconies offer a perfect platform to glimpse the hundreds of humpback whales that pass by between June and November during their annual trek north from Antarctica to their calving grounds near the Great Barrier Reef.
This position makes Whalewatch Ocean Beach Resort "the premium, sought after accommodation spot on North Stradbroke Island" according to its new resort managers, Christine and Peter Ross. Christine says, "We are the very first resort perched on the pinnacle of Point Lookout, high above the pristine white sands of main beach. Our idyllic setting and high elevation offer vacationers the best and most magnificent ocean views as far as the eye can see."
Before becoming the resort managers of Whalewatch Ocean Beach Resort, Christine and Peter owned and managed two very successful early childhood centres in Brisbane. Christine explains: "Both centres won multiple business achievement awards and employee of the year awards spanning 20 years. Both of the centres were run down, tired and didn't have a very good reputation. So over time we turned them around and they became a focal point of their communities."
With their incredible business experience and insistence that customer service should always be a priority, the duo have managed to create a warm yet professional resort. Key to their success has been transferring the skills they acquired in their previous roles to their new posts as resort managers at Whalewatch Ocean Beach Resort.
For 20 years, Peter owned and managed his own air conditioning business where extensive experience as a tradesman gave peter the ability to "fix just about anything". Peter has since become the resort's "go-to-man". Christine jests, "No resort should be without their very own handyman!"
When they bought Whalewatch Ocean Beach Resort a year ago, their children were 23 and 19 and at first they really felt the absence of their parents. Christine says, "It was hard to leave our children but now they love Straddie as much as we do and are starting to enjoy their 'holiday home' here. It was a big adjustment but after 12 months we are all starting to find our way and we have now become a part of the Point Lookout community."
The management rights of Whalewatch Ocean Beach Resort was acquired with the help of RAAS Rights who, according to Christine, "were very professional and supportive as we negotiated a business we had never done before". Highly recommending them as well as their accountant, Warren Maris at Magnus Group who "was absolutely superb at conducting the due diligence". Christine explains, "They guided us on many aspects of the business that we may not have noticed until too late, and this saved us literally thousands of dollars."
They also use Platinum PA for all their book-keeping needs, Cath Maris is the principal and "she is extremely efficient keeping us in order for the tax man including wages, super, income tax" according to Christine. "Her support has been invaluable as we learn the ropes of resort management."
When they purchased Whale Watch Ocean Beach Resort it had been neglected and was very tired. Managed on a shoestring over the previous years, its reputation had been dented with bad reviews on TripAdvisor but Christine and Peter were not deterred from buying. Christine explains, "We saw the diamond in the rough and just knew with a bit of forward planning, businesses acumen, hard work and support from owners and body corporate we could turn this amazing complex around and into the most desirable resort on the island."
It was a challenge, with many of the units untouched for many years. In the property, they found threadbare carpets, mouldy curtains and paint that dated back to when the resort was first built 16 years ago. The "icing on the cake", according to Christine, was the roof that needed to be replaced as it had deteriorated beyond repair, not to mention that many of the units had suffered from severe water damage, which worsened every time it rained.
The body corporate decided that the complex had to close for a month while the roof was repaired due to "work place health & safety" issues. At first Christine and Peter worried that this would have an extremely negative impact on their income and wondered about their ability to survive their first year of business. However, they chose to use this closure to their advantage and organise a resort makeover.
Christine says, "We put together a refurbishment package that included carpets, curtains, painting, kitchen and bathroom upgrades, furniture packages and replacement of many other worn and torn items. We consulted with local tradesmen and mainland suppliers and were able to put together a package for the owners."
There was an amazing response to this package from the owners, who as it turned out had been desperate to do some work on their units but the complexity of trying to organise a total refurbishment from the mainland had been a daunting task.
With the go-ahead confirmed, the pressure was suddenly on! Christine says, "We had to ensure that everything was completed within the timeframe. At first it really didn't look possible but with a lot of careful planning, project managing and thankfully the professionalism of the local tradesmen and suppliers, every job was completed to task and on time!"
There were many tradesmen involved in this refurbishment who were all integral to the success of the project. Instant Scaffolding erected scaffolding around the entire complex, their friendly workmen were very respectful. The roofing contractor AMJ Roofing "spent every week day from 6.30am till around 5pm removing, replacing, banging, and hammering the roof sheets for three weeks".
In the midst of all this were numerous other tradesmen working on individual units such as, Zoran from Carpet Call who "was very enthusiastic about the project" and all the carpet fitters were very professional – all fast, efficient and tidy.
"Wolf from Contract Curtains cannot be forgotten," Christine says. "He travelled over to the island, just for us and was extremely helpful". He was patient and very knowledgeable about all aspects of his trade and his effort was much appreciated by Christine who says, "I sometimes felt doubt about my choice of colour, fabric or style for the owners but with Wolf's help and calm manner gave me confidence in the final result."
Twenty-one, three-bedroom and two-bathroom apartments had to be painted within four weeks, so Peter Evans from Peter Evans Painters, had a huge task ahead of him. Christine had every faith though. She says: "Peter was so reliable and worked closely with us at all times. He employed more painters and true to his word we had 99 per cent of the units painted by the dead line."
Luke Bland from LBZ Cabinetry designed and installed new kitchens and bathrooms into four apartments. Christine says, "Again he was professional and reliable and his workmanship was of such a high standard that now many other owners want to have their kitchens and bathrooms renovated too."
Over the four-week period Christine and Peter managed six different trades, co-ordinating everyone so that as one job finished another could start. Christine says, "But we couldn't have done it without the support of our team. The housekeepers worked tirelessly to help move furniture, clean up after the tradesman and help get the resort ready for our weekend guests. Our reception team kept guest abreast of the changes and any safety issues before and during their stay. We are so grateful for their support during this hectic time"
Yes, they were still open every weekend during the renovations to accommodate for major events such as the Straddie Island Assault Surfing competition and the Island Vibes Music Festival.
All but three apartments out of 24 in the letting pool had at least some sort of an upgrade – a fantastic result. The apartment owners and resort guests are now incredibly happy with the fresh, modern and beautifully presented self-contained apartments. However, Christine emphases, "This was certainly not a project for the faint hearted. We can both say now that we are very happy it is over and we can now start planning forward with confidence."
One of the greatest outcomes of this renovation turned out to be the outpouring of support from the owners and the body corporate. Christine says, "All in all, everyone pulled together to ensure that the best possible outcome became a reality."
Indeed their biggest challenge became their greatest achievement due to the amount of respect gained from wary owners, a frustrated body corporate and hopeful returning guests.
During the first year it is very important to get the right people on board and Christine says, "Tony Freeman from Think Tank Tourism has been a huge support in our early days. Tony has a wealth of experience in resort management and his support and guidance with HiRum software, promotions, body corporate and general day-to-day running has been invaluable to us."
For Christine and Peter the first year has been a massive learning curve as most of the hard aesthetic work is now done, they will be able to concentrate on building the business. For them it is all about seeing people enjoy themselves and be relaxed and happy during and after their stay.
Christine says, "It is such a privilege to help busy families, couples and individuals plan their holidays. We all want our holiday to be special and we really do try to ensure that all our guests have a wonderful break away from their everyday life."
Stradbroke Island is indeed the perfect place to leave the world behind. It is somewhere you cannot help but be completely enamoured by its charm and raw beauty. Christine and Peter fell in love with this awe-inspiring place and they want nothing more than to shine up an older gem of a resort so that more people can immerse themselves in the visceral splendour of this island.