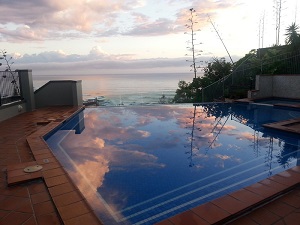 Profiles
Putting the sparkle back into Magic Mountain
With incredible views overlooking the Gold Coast Hinterland, the award-winning Gold Coast beaches and the thrilling skyline of Surfers Paradise, Magic Mountain Resort truly has an awe-inspiring outlook.
Magic Mountain Resort offers spacious fully self-contained two and three bedroom apartments and is located high on Magic Mountain's old theme park site, which holds sentimental memories for many older Queenslanders.
In 1962, Page Newman built the Nobbys Beach chairlift as a gamble that paid off in its first year of operation when the chair-lift carried 40,000 people. In 1976 the park was sold to George Carrett who then owned the park until 1982. Attractions developed during this time including the popular dry-slide and the iconic Magic Castle where a regular magic show was hosted and a boom in attendance figures prompted the construction of a 500-seat theatre.
The area was renamed Magic Mountain and became the Gold Coast's first amusement park. Mr Carrett sold the park in 1982 and it underwent a $13.6 million redevelopment to create a large theme park. It closed for good in 1991 when Dreamworld opened. This site was redeveloped into the fabulous and fun Magic Mountain Resort.
Jurie and Annelize Bender are the current resident managers of the resort, originally from South Africa where they were both police officers for many years. This is where Annelize admits they honed their adept people skills. The couple immigrated to New Zealand 15 years ago and worked together there, first as security contractors, replenishing ATMs and then for the New Zealand police for seven years as firearm instructors.
They made the move to Australia two-and-a-half years ago and worked for a resident manager in a corporate high rise building in Brisbane: Jurie as the maintenance manager and Annelize as the property manager. Annelize explained, "In October 2013 we thought we knew enough and bought our first management rights here at Magic Mountain. We found out the hard way that we did not know enough and we still don't!"
Jurie and Annelize bought the management rights for Magic Mounatin Resort through Alex Cook from Resort Brokers in conjunction with Narelle Filmer from Think Management Rights. They immediately saw potential for growth in this iconic family resort, which they felt was crying to be spruced up. The complex has 151 apartments and has a good mix of owner occupiers, permanent rentals and holiday units. The couple was prepared to put in a great deal of hard work to ensure that this beauty reached its full potential.
The complex is 19 years old and the dated 1990s, terracotta Mediterranean look is still very much in evidence. Annelize admitted, "It was in desperate need of a modern makeover."
Work started in May last year and is due to be finished very soon.
The refurbishment has over run its planned schedule and Annelize explained, "It was a nightmare getting all the scaffolding on the hilly terrain and we had to sacrifice a lot of our lush palm trees and plants. The guests have been understanding and we have not had many complaints. We did our best to allocate units to ensure our valued holiday makers were not overly disrupted."
In June last year, they had the gym upgraded, replacing all of the old equipment with state of the art apparatus as well as a repaint and a new carpet. The reception area is presently undergoing a major upgrade with the re-tiling of the floor and new signage. "The original Magic Mountain painted sign at the top of the complex has been replaced, the owners voted to have a neon Magic Mountain Resort sign erected. This new neon sign can now been seen all the way down the southbound Gold Coast Highway," Annelize revealed.
Magic Mountain is the epitome of everything that is great about a truly "Aussie" Gold Coast family holiday. This resort is perfect for families of all sizes having large two and three bedroom self-contained units and three splendid pools, one of which is a sprawling lagoon pool with two little beaches on each side, ideal for small children to play in the shallow waters and in the sand. There is also a bubbling spa for the parents, the heated waterfall pool and then, of course, is the legendary infinity pool with a hot spa that sits at the very top of the resort. Annelize added, "Guests can relax here in the water and enjoy the stunning expansive views of Nobby Beach and the Broadbeach skyline."
When the renovations are complete, Jurie and Annelize will be launching their marketing campaign to promote the magical family resort. The resort's website is being revamped with new images and a short video to showcase the resort's brand new look.
To match the fresh modern look of the exterior of the resort, a program has commenced to revamp the interiors of the units. Once finished it will certainly put the resort up there as one of the best family resorts on the Gold Coast.
Annelize could not contain her excitement about the future of the resort and revealed that they have also made their units available for bookings for the Commonwealth Games in 2018. "The world's media will descend upon the Convention Centre and we are ideally located to attract a lot of bookings for technicians and support staff," she said.
The couple bought this business knowing that it was somewhat run-down but they have achieved an incredible amount within the first six months of management. They have had to learn on the job, build sound relationships with two body corporates and soar through a total revival to re-market this great resort.
The typical 'Queenslander' laid back lifestyle here suits this couple entirely as they love to be near the ocean and Jurie loves to fish. When the craving for fishing gets too much, "he "works" part-time on the Gone Fishing charter boat in Southport and is also a master at barbecue or braai as it is called in South Africa," added Annelize.
The secret to success in this business, she said, is down to "working hard, having lots of patience and an especially good sense of humour". Satisfaction is won is when you exceed your guests' expectations. "Positive communication with people is crucial – from owners and body corporate members to long term tenants and holiday guests – always be helpful and friendly," Annelize said.