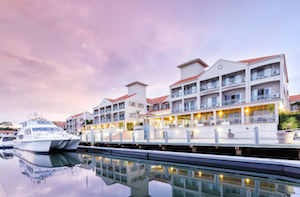 News
Ramada hotel Hope Harbour celebrates official opening
The official opening of Wyndham Hotel Group's latest Ramada-branded property in Queensland was attended by local dignitaries and the community's key tourism and hospitality industry representatives.
Located on the picturesque waterways of Hope Island, Ramada Hotel Hope Harbour, Gold Coast underwent an extensive $2.5 million refurbishment by Anthony Moreton Group and Pryde Group before being rebranded to Ramada in December 2014.
"Since the hotel opened its doors, it has revealed a sleek and contemporary interior design of all 70 rooms and common areas, new and improved conference and event facilities accommodating up to 300 guests and is preparing to open a new restaurant in the coming months," read the company statement.
Federal Member for Fadden, Stuart Robert MP, officially opened the hotel in front of some 100 guests, saying the introduction of Ramada Hotel Hope Harbour to the northern end of the Gold Coast was a key milestone for the region.
"This vibrant area of the Gold Coast offers unparalleled holiday and conferencing options surrounded by world-class shopping and entertainment," Mr Robert said.
"The introduction of the globally recognised brand of Ramada comes at a time of unprecedented growth for the region. It will add value to the area as a key leisure and business destination while also growing the number of jobs on the northern Gold Coast."
President and Managing Director Wyndham Hotel Group South East Asia and Pacific Rim, Barry Robinson said he was delighted to introduce Ramada Hotel Hope Harbour to one of Australia's most popular tourism destinations.
"With a diverse range of tourist attractions nearby such as the theme parks, golf courses and the popular shopping and dining precinct of Sanctuary Cove, along with the hotel's extensive conference and event facilities, we are well positioned to cater to both business and leisure travellers.
"The rapid expansion of Wyndham Hotel Group in the South East Asia and Pacific Rim region is a testament to the strong reputation of our brands as a leader in providing high quality accommodation and exceptional customer service," Mr Robinson said.