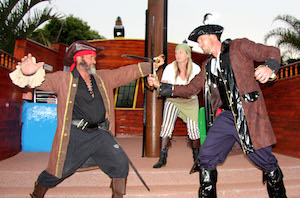 News In Brief
Ahoy me hearties! BIG4 Sunshine rocks themed pirate adventure for school holiday entertainment
BIG4 Sunshine Holiday Park at South West Rocks on the NSW mid north coast is offering fully-themed entertainment for families over the September/October school holidays.
Big4 Sunshine's new $1m Shipwreck Island is the main stage and the adventure is acted out over five days, involving swashbuckling pirates on a chase to retrieve Black Beard's treasure with a map that may or may not be fake.
The development of the Shipwreck Island attraction has been part of a total upgrade of the holiday park, which has also included the addition of luxury cabins and all weather facilities for children.
Owner Tony Mayne – a big kid himself – believes that the investment in the new facilities and themed activities will be welcomed as much by the parents as the kids: "Shipwreck Island blows kids minds because its the real deal and kids get to live their own fantasies on a 50ft pirate ship. The concept was to be a world of fun for kids allowing parents to lay back and relax, but parents won't stay off it either!
"When you hear the squeals and see the joy in someone's face you know you've got it right…and that's just the mums. I know how important it is that families have time to reconnect while enjoying a well-earned and much-needed break in a time poor world."
There will also be treasure hunts around South West Rocks and various Kids Club Pirate themed activities that will culminate in a finale where Capt'n Shark Eye and guests will dig up a buried treasure chest filled with gold chocolate coins and prizes.
The five day themed event will be staged twice during the school holidays – 21st September to 25th September and then again from 28th September to 2nd October.
The Big4 Sunshine team will be dressed in pirate gear and will hand out pirate packs to guests on arrival. While the aim is to give parents a break, there will opportunities for families to have fun together, following clues to discover the attractions of South West Rocks in an entertaining fashion.
The Park's Joey's Kids Club will be fully involved in the theme with activities that include making an eye patch and pirate hat, creating Tinker Belle's real flower crown, mermaid necklaces, making a telescope and pirate hook, building pirate boats, making pirate boat cupcakes and cookies and staging pirate ship races in the kids pool.