News In Brief
Deputy Premier kicks off Quest's WA expansion with Quest Rockingham opening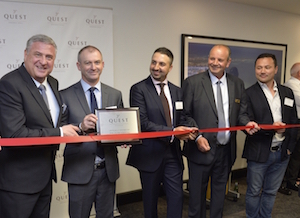 Last night the Deputy Premier of Western Australia, Dr Kim Hames, officially opened Quest Rockingham, kicking off a period of growth for Quest Apartment Hotels in the state.
Quest Chief Executive Officer Zed Sanjana; Mayor of Rockingham Barry Sammels; and former AFL great Peter Bell joined Deputy Premier Hames to celebrate the grand opening with a cocktail party held at the brand new property.
Mr Sanjana was delighted to open the first of five new properties in Western Australia, confident in Quest's growth plans for the state with another four properties scheduled to open over the next 18 months (Quest East Perth, Quest West Perth, Quest Mounts Bay Rd, and Quest Fremantle).
When doors open on these new properties, Quest will offer a total of 871 rooms across WA, hosting more than 60,000 travellers each year – a 128% increase on the existing number. An additional property in Midland is scheduled to commence construction in late 2016 further grounding Quest's presence in the state.
"It is an absolute pleasure to officially open Quest Rockingham, maintaining the excitement and momentum built up over the past year – Quest has completely rebranded, signed a significant partnership with The Ascott Limited and opened 14 brand new properties, all within the space of just 18 months," said Mr Sanjana.
"According to Tourism WA, the state hosted 8.7 million overnight visitors in the year ending March 2015, with an average stay of 7.6 nights; therefore demand for Quest's style of accommodation continues to increase. The tourism body anticipates visitor numbers will increase by 6.9% over the coming year and we intend to meet this demand with our unique style of apartment hotels."
Mayor of Rockingham, Barry Sammels officially welcomed Quest on behalf of the City of Rockingham, highlighting the impact Quest Rockingham would have on business tourism in the region.
"On behalf of the City I would like to officially welcome Quest to our wonderful coastal region. Rockingham will now be able to take up the opportunity to cater for business tourism as well as local and international tourists. One of the key developments in the last 12 months, which has opened up the coastal region for both commuters and investors, is the $17.8million Kulija Road running from the Kwinana Freeway right into Rockingham via Dixon Road," Mayor Sammels said.
"Recently out for public comment was the Rockingham Beach Foreshore Masterplan, a $40 million proposition, which aims to guide the redevelopment of the Rockingham foreshore in the coming years, providing improved vehicle and pedestrian access to the foreshore as well as a regional water play park between Churchill and Bell Parks. Quest's guests will be able to take a short stroll to the beach and café strip along the esplanade, enjoying a range of award winning local restaurants and bars."