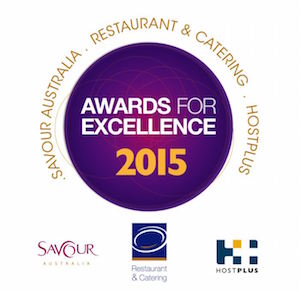 This year, the Southern, Northern and Sydney Metropolitan regions have combined to form the only Awards for Excellence held in New South Wales, which attracted almost 750 guests at the Dockside Pavilion, Darling Harbour.
The industry's night of nights recognises regional and metropolitan operators across that state who provide exceptional service, demonstrate culinary excellence, and deliver great ambience and value for money.
The winners of the major award categories include:
Quay, The Rocks – Sydney Metropolitan Restaurant of the Year;
Eschalot Restaurant, Berrima – NSW Restaurant of the Year;
Blond Catering – Austral Bricks Design Studio, Marrickville – Sydney Metropolitan Caterer
of the Year;
Leogate Estate, Pokolbin – Regional NSW Caterer of the Year;
Bill Galvin – Lifetime Achiever;
Judy & Michael McMahon – Hall of Fame;
John Fink – Restaurateur of the Year;
Jean-Michel at the Knickerbocker, Thredbo Village – Consumer Vote Award – Southern
NSW;
Table 1 Espresso, Merewether – Consumer Vote Award – Northern NSW;
Bistro Hulu, Sydney – Consumer Vote Award – Sydney Metropolitan;
In addition to their major awards, Quay also won Fine Dining Restaurant, Eschalot Restaurant was also awarded the Contemporary Australian Restaurant award and Blond Catering took home the Venue Caterer category.
Ripples Chowder Bay, Mosman, also won two categories, being crowned both Contemporary Australian Restaurant – Informal and Café Restaurant.
Restaurant & Catering Australia (R&CA) CEO John Hart congratulates the winners of each category.
"The winners should be proud of their achievements, as they have been rigorously reviewed in one of the most objective awards systems, which looks at the entire dining experience, rather than a single food or service dimension.
It is this dining experience that attracts international visitors to our country and is proudly promoted in Tourism Australia's Restaurant Australia campaign.
"I thank all the operators who participate in the Awards for Excellence program for their passion,commitment and dedication to their craft. Both the finalists and winners have made a significant contribution to the industry and its reputation across the world," said Mr Hart.
Stewart White, Chair of Judges for the Awards for Excellence, says it is important to note that businesses are judged using criteria established by their customers.
"Knowing your customer and exceeding their expectations is pivotal to success – businesses need to serve great food, to evolve and innovate, and invest in their staff", said Mr White.
The New South Wales Social Media Award, which aims to encourage and recognise the use of social media, was awarded to Table 1 Espresso, which generated the most posts on Instagram using their registered hashtag.
Mr Hart believes the industry cannot ignore the power of new communication platforms to engage with their customers.
"The digital age is upon us – the use of smartphones is growing exponentially in Australia with smartphone ownership estimated at about 81 percent. It's great to see operators embracing technology and finding new ways to engage with customers.