News In Brief
Wyndham Worldwide Green Day celebrates carbon emissions goal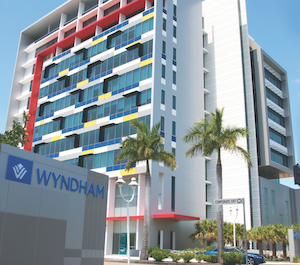 Wyndham Vacation Resorts Asia Pacific has announced its staff will celebrate Wyndham Worldwide Green Day on October 8.
Employees at the Gold Coast head office and across the region's 30 managed resorts in South East Asia and the Pacific Rim will also be celebrating the global company's achievement of reaching its goal of a 20 per cent reduction in carbon emissions in 2014, six years ahead of schedule.
Wyndham Worldwide set the target in 2010 as part of its Wyndham Green initiative with the goal of reaching it by 2020. After beating the target so early, the company set a new target of a 25 per cent reduction in carbon emissions by 2025.
The Wyndham Green program was launched in 2006 by Wyndham Worldwide and demonstrates the company's commitment to corporate social responsibility and the environment through efforts to conserve resources, preserve natural habitats, prevent pollution and educate staff, timeshare owners and hotel guests.
In the Asia Pacific region, sustainability initiatives have been implemented at all resorts with the introduction of water efficient washing machines and dishwashers, low flow restrictor taps and shower heads and recycling bins within hotel rooms and resort apartments.
"The Wyndham Corporate Centre in Bundall on Queensland's Gold Coast is five Green Star rated through the Green Building Council of Australia and uses sustainable technology including sensor lights, efficient zoned air conditioning and harvested rain water for toilets," the company said in a statement.
"The Asia Pacific also has a Wyndham Green mascot, Wynnie the Wallaby, who encourages children in particular to help protect the planet through fun resort activities and the Wynnie the Wallaby activity pack.
"Resort and corporate employees receive ongoing education about the importance of conserving energy through a regular email and training update program."
President and Managing Director of Wyndham Vacation Resorts Asia Pacific and Wyndham Hotel Group South East Asia and Pacific Rim, Barry Robinson, said sustainability was a key focus for the company.
"We are committed to educating our staff, timeshare owners and hotel guests about the importance of protecting the environment and, as a company, we aim to lead by example," Mr Robinson said. "We've invested significantly to adopt best practices and build a culture that continuously strives to improve our impact on the environment."