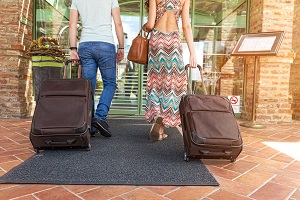 In the rapidly changing hospitality industry, it's important to listen to feedback from today's travellers. Which is why TripAdvisor claims Phocuswright recently surveyed global TA users on its behalf.
TripAdvisor said in a statement: "Here's what you need to know, plus tips to help you turn these insights into action."
Key finding: TripAdvisor reviews influence booking behaviour.
• 96% of TripAdvisor users consider reading reviews important when planning trips and booking hotels.
• 83% of TripAdvisor users will "usually" or "always" reference reviews before deciding to book a hotel.
• More than half of TripAdvisor users will not book a property that doesn't have any reviews.
• And it's not just hotels: 87% of TripAdvisor users consider reviews important when booking restaurants; 81% say reviews are important when booking attractions.
Tip: Make sure people who read your TripAdvisor reviews can easily take the next step and become your customers.
Hotels, inns and B&Bs can add contact details and post special offers to entice travellers, or accept bookings directly on your TripAdvisor page. Other types of businesses can follow similar steps; see our guides on how to optimize your restaurant listing and how to optimize your attraction listing.
"The majority of our users are coming to TripAdvisor not just to read reviews but also to compare options for their trip, make an informed decision and book. With travellers now finding the end-to-end solution they need on the site, peer-generated reviews are as important as ever." – Barbara Messing, chief marketing officer at TripAdvisor
Key finding: The more reviews — and photos — the better.
• The majority of TripAdvisor users (79%) will read at least 6-12 TripAdvisor reviews before choosing a hotel. Most (58%) will also read at least 6-12 reviews before choosing a restaurant.
• 4 in 5 TripAdvisor users will "usually" or "always" reference reviews before deciding on an attraction to visit.
• 76% of TripAdvisor users agree that traveler-submitted photos influenced their booking decision.
Tip: Capitalise on travellers' interest in your TripAdvisor page by ensuring that you have plenty of recent reviews and traveller-submitted photos. Encourage customers to share feedback with Review Express, a free email-based review collection tool.
Key finding: To drive bookings, highlight TripAdvisor content.
• 82% of users agree that TripAdvisor helps them to plan better trips.
• 2 out of 3 TripAdvisor users are more likely to book a hotel that displays TripAdvisor reviews and ratings on its website.
Tip: Free TripAdvisor widgets are one way to showcase your TripAdvisor reviews, ratings and awards, both on your website and on social media.
Key finding: Your responses to reviews are more important than ever.
• 85% of users agree that a thoughtful response to a bad review will improve their impression of the hotel — an increase of more than 50% since 2013.
• 65% agree that they are more likely to book a hotel that responds to traveller reviews, versus one that does not respond.
• 4 out of 5 TripAdvisor users believe that hotels that respond to reviews care more about their guests.