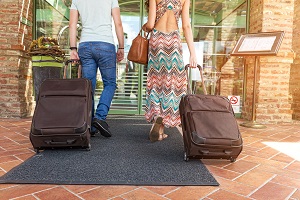 News In Brief
Asia Pacific travellers favouring regional destinations
New research has shown that Asia Pacific travellers are choosing shorter stays and weekend retreats over long-haul flights.
According to Visa's Global Travel Intentions Study 2015, 46 percent of respondents reported taking shorter flights on their most recent trip, up from 43 percent in 2013.
Global travellers also tended to travel for an average of seven hours on their most recent holiday.
Length of stay
The study also indicated that Asia Pacific travellers are the most likely to spend the least amount of time away. Only 35 percent said they would stay on holiday for seven or more nights when the global average is 48 percent.
Meanwhile, 32 percent of travellers from the Asia Pacific remain at a destination for three to four nights and 11 percent stay for just one or two nights, highlighting a preference for shorter, nearer trips.
Accommodation-wise hotels and resorts (82 percent) are by far the most popular choice for Asia Pacific travellers, followed by hostels/guest houses/chalets/B&Bs (18 percent) and staying at boutiques hotels and staying with friends and relatives, both 12 percent.