News In Brief
Can Bindi's Dancing with the Stars triumph attract new American tourists to Australia?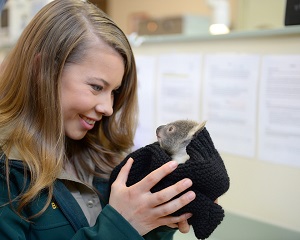 The Sunshine Coast is celebrating local hero Bindi Irwin's triumphant victory in the final of the US television show Dancing with the Stars.
Bindi is daughter of Australia Zoo founder Steve Irwin and plays a major role in the Sunshine Coast tourism icon at Beerwah on Queensland's Sunshine Coast.
17 year old Bindi, and her dancing partner Derek Hough, took home the coveted Mirror Ball trophy following two nights of finals held in Los Angeles. Bindi beat army hero Alek Skarlatos and Backstreet Boys' Nick Carter to win the coveted title.
A feature of Bindi's performances during the preliminaries and finals was her inclusion of references to her late father, Steve, and to Australia Zoo and her Sunshine Coast home.
A koala at Australia Zoo was named Derek after Bindi's dancing partner, and 'Derek' has proved a social media phenomenon as the pair danced their way to victory.
The Dancing with the Stars accolade follows Bindi's recognition in the recent Queensland Tourism Awards, when she won the Queensland Tourism Young Achiever Award.
Bindi is expected to return to the Sunshine Coast next weekend for her brother Robert's 12th birthday on December 1.
Sunshine Coast Destination's CEO, Simon Ambrose, said that with millions of viewers, Bindi Irwin's success in Dancing with the Stars is likely to have a very positive effect for US tourism to Australia and the Sunshine Coast.
"We are incredibly proud of her performance, and her success is a tribute to her talent, personality and drive," said Sunshine Coast Destination CEO, Simon Ambrose.
"She has consistently spruiked the Sunshine Coast during her performances, and with Americans' love of Australian wildlife and nature, and Bindi's earthy, genuine character, her impact could be considerable.
"The Americans fell in love with her father, and have now fallen in love with her. We will be working hard with Australia Zoo to translate her high profile into attracting new visitors to Australia and the Sunshine Coast. The favourable dollar, combined with Americans past interest in characters such as Crocodile Dundee, create ideal conditions for promoting the destination and our unique attractions."
To the year ending June 2015, the Sunshine Coast attracted 14,000 visitors from the United States.