Refurbishment
Crown Metropol Perth presents award winning renovation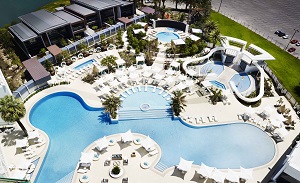 The multi award winning Crown Metropol Perth offers the ultimate five-star luxury accommodation experience on the banks of the beautiful Swan River.
It is a stylish and modern property overlooking the city and located only 15 minutes from the international and domestic airports, perfect for both business and leisure travellers.
The Crown Metropol complex is Western Australia's only 24-hour integrated tourism resort incorporating two hotels, a choice of 33 restaurants and bars, nightclub, 24-hour casino, 2300 seat theatre and a range of recreational facilities including Isika Perth Day Spa, retail outlets, riverside cycling trails and a world-class convention centre. Crown Metropol is a five star property and accredited accordingly by Star Ratings Australia.
Crown Metropol Perth's manager, Andrew Cairns, told us that the resort opened in October 1987 as Burswood Resort Hotel. In June 2003, Burswood signed a partnership deal with InterContinental Hotels Group that saw the existing Burswood Hotel rebranded as InterContinental Burswood Resort Perth.
Then in 2005, the wider resort changed its name to Burswood Entertainment Complex, and the hotel was rebranded to InterContinental Perth Burswood. In 2012, Burswood Entertainment Complex finally rebranded to Crown Metropol Perth on 27 June 2012.
Since its opening, the property had only received one soft furnishing refurbishment revealed Mr Cairns, so on 5 January 2009 work for the multimillion dollar refurbishment and modernisation project of Crown Metropol Perth commenced. The project was completed in November 2012.
The aim was always "to set a new benchmark for true five-star international luxury in Perth" and so it necessitated the "redesign of all guest rooms and floor foyers, along with a stunning new reception area, resort style pools and a sophisticated day spa. Each of Crown Metropol's 397 luxuriously appointed guest rooms and suites now exude a unique level of modern elegance and comfort which is truly representative of a luxury accommodation resort".
Blainey North was the prominent Australian interior designer who was engaged to redesign the rooms and public area spaces. His brief was to design in the "fresh, contemporary and luxurious character of existing Crown properties". He has succeeded in his design, highlighted in the first impression of the stunning lobby that oozes quality and creates a sophisticated space that evokes cool luxury, achieved with the clever use of lighting glass and use of black and white mixed with warmer tones.
For this project to be a success it was also crucial, explained Mr Cairns, to establish good working relationships with the right building services consultants; the reputable BCA Consultants P/L with their long history of servicing the Australian construction industry, adopted cutting edge technology to provide innovative customized design solutions. Along with Cartwright Hydraulic Consultants Ltd they developed building services designs that could be efficiently integrated with the existing infrastructure. After the designs had been reviewed, finessed and approved via the construction of prototype rooms, the main contractor PS Structures P/L was engaged and the refurbishment commenced.
It was decided that the hotel was to be refurbished in stages, a schedule that enabled it to remain operational with a minimum of 80 per cent capacity at all times. The goal was to minimise impact on the operation of the hotel therefore a detailed plan of the construction sequence with access routes and timing of disruptive and noisy work was undertaken.
The project management team engaged closely with the hotel operational team to coordinate the planning, and subsequent management of the construction activities. A cooperative and dynamic approach was required on the part of the project management team and contractor to deal with the day to day challenges, and from time to time, reschedule disruptive activities to avoid VIP guest stays.
At completion of each phase a thorough assessment was undertaken jointly between the project management team, the contractor and the hotel operational team to identify and correct defects prior to handover to the operational team.
Mr Cairns said, "Through careful management paired with cooperation from all teams, guest disruption during the refurbishment was kept to a minimum level wherever possible. Notwithstanding the short term inconvenience caused, the continuing guest feedback on the refurbished property was overwhelmingly positive, particularly from repeat guests who had become accustomed to the standards of the former operator. Crown Metropol operational staff have also remarked how much more rewarding it is to work in a bright, fresh and newly refurbished luxury environment."
Crown Metropol Perth has indeed taken the luxe factor to a whole new level. The exciting additions and upgrades to its already stellar amenities, is matched with service of the highest calibre to ensure the resort is equal to the best resorts in the world.
The industry has recognised the triumphant success of this refurbishment and in the last year Crown Metropol Perth won Best Hotel Renovation in the Asia Pacific region at the International Hotel awards, Best Pool Area at the 2012 HOSPY awards, a certificate of excellence from TripAdvisor placing the hotel in the top performing 10 per cent of all organisations worldwide and Hotel Management Magazine ranked the hotel's gym, Isika Fitness, fourth of hotel gyms in Australia.
This is an incredible achievement for the team at Crown Metropol Perth and they acknowledge that a primary factor in this success was due to management establishing a clear scope, brief and budget for the project early on.
Mr Cairns also advised, "Construction of prototype rooms is important to enable the review and approval of design from aesthetic, operational and budgetary perspectives. Programming and other operational constraints should be identified and built into commercial arrangements with contractors. It is also essential to ensure a thorough defecting process is in place for a smooth handover."
The high standard of luxury at the hotel now offers a retreat for the most exclusive and sophisticated of guests. "The hotel has hosted world famous celebrities including Robert De Niro, Liz Hurley, Lady Gaga, Bob Geldof, Richard Branson and Tiger Woods," added Mr Cairns.
BCA Consultants provides building services to award winning hotel refurbishment
BCA Consultants P/L provided innovative customized design solutions for the successful multimillion dollar, award winning refurbishment and modernisation project of the Crown Metropol Perth.
With a long history of servicing the Australian construction industry, BCA Consultants continues to build on its capabilities in the market recently adding building compliance and certification to its suite of multidiscipline building services engineering. Over its two and a half decades of successful operation, BCA Consultants has undergone a transformation from a relatively small, boutique business to a comprehensive and capable professional company employing dozens of engineers and experts.
"We have a breadth of expertise encompassing all of the major building services disciplines, with specialist services including building surveying and internationally recognised architectural lighting design" stated Warren Levisohn, electrical engineering manager and one of the four directors at BCA Consultants. The team at BCA Consultants prides itself on its ability to capture unknown factors and deliver workable solutions to ensure that every project, including the Crown Metropol Perth, reaches its successful and timely conclusion.
By adopting cutting edge technology across all of its engineering disciplines, documentation methods including Building Information Modelling, 3D services design and documentation in Revit ensures that they have the expertise to meet their client's requirements. "Our clients notice the attitude of project ownership we bring to the job. Our culture of accountability and problem-solving set us aside from our competitors, resulting in many loyal repeat clients, and a growing list of major projects to our name
"Our passion for quality and our dedication to innovate means that we have emerged as a reputable, client-focused business with a range of capabilities delivered via a thorough hands-on service method," concluded Mr Levisohn.