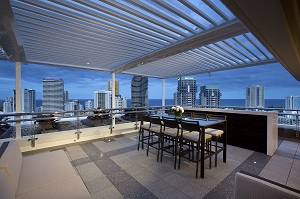 News In Brief
Jupiters unveils first few multi-million dollar refurbished rooms
Jupiters Hotel & Casino has unveiled the first completed rooms in one of Australia's most extensive hotel refurbishments, as The Star Entertainment Group forges ahead with a $345 million transformation.
The contemporary renovation of the existing hotel, together with some initial work already completed around the pool and hotel façade, will cost around $75 million.
A six-star 17-storey all-suite hotel will also be completed at the front of the property before the Gold Coast 2018 Commonwealth Games. The new look for the current hotel was designed by Steelman Partners with the vision delivered on the Gold Coast by highly respected South-East Queensland architectural practice ML Design and experienced builder Wunda Projects.
The Star Entertainment Group's managing director Queensland, Geoff Hogg, said the first stage of the hotel refurbishment heralded a new era for the property which celebrates its 30th birthday this month ahead of the Commonwealth Games.
"The project has delivered modern, contemporary rooms that are globally competitive and offer our guests an unprecedented level of personalisation and unrivalled luxury," he said. "The hotel refurbishment not only forms an integral piece of the property's transformation, but will serve as a catalyst in providing new standards of excellence and guest services."