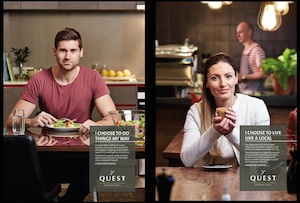 News In Brief
New campaign launches Quest's international expansion
Full-service creative agency Cyclone has launched Quest Apartment Hotels' largest advertising campaign in over five years – including TVCs, print and online – as part of the company's $10 million rebrand announced in August.
Officially relaunching as Quest Apartment Hotels, Quest is preparing for imminent international expansion.
Four brand new TVCs will be broadcast Australia-wide this month with plans to run in New Zealand by the end of 2016. Placement will strategically target the business traveller market, including Sky News and Sky News Business Channels, Qantas lounges and onboard, Virgin Australia lounges and onboard, along with online video content.
Cyclone Creative director and managing partner Sam Hooper explained how the rebrand required a significant mindset shift for the iconic Australian brand as it enters its 28th year of operation. Quest had to reevaluate its role in the lives of the business travellers, taking into account the rapidly growing millennial market.
"We are all on a quest for success in our working lives and we all have the power to choose our career destiny. This insight created the framework for us to position the Quest brand as an enabler of success," said Mr Hooper.
"The creative takes a story telling approach, giving us a glimpse into the lives of people on the road, wherever business takes them. The resulting campaign – encompassing TV, onboard and online video content – elevates the brand to a premium standard."
In a three-way pitch, Cyclone was awarded the Quest account because of its strategic insight on the emerging millennial market and confidence in its ability to 'future-proof' the brand and position it for success.
Quest Apartment Hotels general manager of brand Tony Gauci highlighted Cyclone's understanding of the millennial mindset and the need for brand evolution as a key factor in its selection as the right agency to deliver Quest's vision for the future.
"Quest identified strongly with the passion and drive displayed by the Cyclone team. Their understanding of the emerging business traveller market and the team's creative approach to engaging with our guests was right on the mark. We enjoy working with passionate people so partnering with Cyclone made perfect sense," said Mr Gauci.