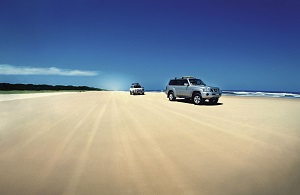 Tourism
Sunshine Coast launches new tourism era with new name and direction
A new era has commenced for Sunshine Coast tourism, with the regional tourism organisation officially changing its identity to Visit Sunshine Coast.
While the region has marketed itself through the visitsunshinecoast.com.au website for a number of years, the RTO has operated as Sunshine Coast Destination Ltd since its inception in 2010.
The decision to change the RTO's name was made today at the SCDL Annual General Meeting. It took effect from December 1, 2015.
"Bringing together the public and operational identities of the organisation is crucial in this digital age," said Visit Sunshine Coast Chair, Grant Hunt.
"The key objective of the organisation is to be consumer and industry focused, and this straightforward change will help maximise the potential of our marketing and promotional efforts," said Mr Hunt.
"The new identity will build on some outstanding work and results achieved in 2014-15 by the SCDL team. We are anticipating even stronger growth for 2015-16, as a result of increased air services, a vast range of events, a record visiting cruise schedule, a highly targeted marketing and promotions strategy, and powerful business and community support.
"We have the prospect of an upgraded Sunshine Coast Airport, which we are encouraging the whole community to get behind and support. It would be the ideal 50thanniversary 'present' for the region, as the airport has contributed significantly during the region's first 50 years, and expanded capacity can play a major role in growing the Sunshine Coast's position as one of the country's most dynamic tourism, business, agricultural and residential regions.
"The many exciting developments taking place in the region, including the establishment of the Kawana medical and tertiary district, and the massive residential projects in south Caloundra, make it imperative for infrastructure projects such as the extension of Sunshine Coast Airport to proceed."
During the 2014-15 year, the Sunshine Coast attracted increases of 10.6% in international visitors and 2.8% in domestic overnight visitors, with 3.1% growth in tourism expenditure. Tourism now delivers $2.4 billion annually to the Sunshine Coast economy.
"The figures from the past year have demonstrated unequivocally that our marketing campaigns have created a very positive and powerful image for the Sunshine Coast, which is producing record results for all areas – from the coastal towns of Caloundra, Mooloolaba, Maroochydore, Noosa and Rainbow Beach, through to inland destinations in the Hinterland and Gympie areas," said Mr Hunt.
"It is a measure of the team's talent and hard work that despite challenging economic conditions, SCDL has been able to make such a profound impact with Australian and overseas travellers. The team has launched a number of innovative marketing strategies to capture the attention of travellers and emphasise the diversity and quality of the Sunshine Coast's attractions."
Mr Hunt said that the SCDL team had been able to boost the region's profile substantially through record levels of coverage in broadcast, print and online media, as well as through its digital campaigns. In 2014-15, thewww.visitsunshinecoast.com.au website attracted 26% increase in unique visitors, while its social media sites saw even more spectacular growth led by Instagram (+ 371%), Facebook (+43%) and Twitter (+73%).
"Our organisation provides complete representation across the industry, but increasingly our focus is on digital marketing and we have some highly talented experts contributing to our efforts," said Mr Hunt.
"We have also concentrated on developing our partnerships with Tourism Events Queensland, major industry players like Flight Centre and Expedia, and neighbouring RTOs such as Fraser Coast Opportunities, with whom we have developed the highly successful Australia's Nature Coast marketing project, which has driven substantial visitor increases for both our regions.
"We are fortunate to have great support from the Sunshine Coast and Gympie Councils and Sunshine Coast Airport, and our membership is vibrant and supportive. A tourism organisation relies on its members to be fully effective and we are fortunate to have members who are both progressive and energetic.
"2014-15 saw major challenges as a result of changes to funding, but I am pleased to report that the organisation addressed the changes successfully through a re-organisation of the operating structure, innovative partnerships and strict cost control. We are well positioned for delivering strong returns to the Sunshine Coast community in 2015-16."
Sunshine Coast Mayor Mark Jamieson welcomed the change in identity and congratulated the RTO on its consistently positive results.
"Sunshine Coast is one of Queensland's fastest growing tourism regions, and our reputation as a holiday, business and events destination continues to attract new markets," Mayor Jamieson said.
"That success is strengthening the Sunshine Coast economy, providing opportunities for new businesses to service these visitors and creates jobs.
"Council supports the RTO's marketing programs and operation of its Visitor Information Centres through the Tourism and Major Events Levy and the results are speaking for themselves.
"The change in identity will build on that success and I congratulate the Board, CEO Simon Ambrose and his team on their achievements."