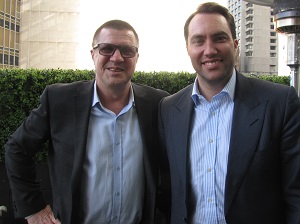 News
Lido unveils strategic partnership with global hotel solutions leader HRS
Sydney-based The Lido Group has announced a new strategic partnership with global hotel solutions provider HRS.
As part of the agreement, German-headquartered HRS has secured a minority shareholding in one of Australia's leading hotel booking and payment solutions provider.
Established in 1987, The Lido Group is a privately-owned business providing integrated hotel booking and payment solutions to major Australian corporations and government organisations. The award-winning company currently works with more than 7,000 hotels across Australia and New Zealand.
HRS offers corporate customers more than 300,000 hotels in 190 countries, including hundreds of hotel chains and approximately 180,000 independent properties. The privately-owned company provides customised hotel booking and payment solutions to more than 3,000 enterprises, including global players such as Google, China Mobile, Huawei and Alibaba.
Effectively immediately, the two companies will work together to share hotel content, integrate technology solutions and jointly service global customers, both directly and in partnership with key travel management companies (TMCs).
The Lido Group chief executive Steve Mackenzie said the decision to partner with HRS was facilitated by clear cultural as well as business synergies between two fast-growing industry leaders.
"The Lido Group founder Brian Bridgewood and HRS founder Robert Ragge both started with nothing more than a telephone and a reservations book," said Mr Mackenzie. "Today the values of these visionary individuals continue to underpin their respective organisations.
"Both companies are also on strong growth trajectories propelled by their unique hotel content, cutting-edge technology and close relationships with valued corporate customers and leading TMCs.
"This new partnership will provide the platform for The Lido Group to further accelerate its expansion."
HRS chief executive Tobias Ragge says that investment in The Lido Group marks a major milestone in the HRS Group's global expansion.
"This development offers huge potential for HRS, with the Australian business travel accommodation market now the seventh largest worldwide," said Mr Ragge. "Australia is also a global leader when it comes to companies booking their business travel accommodation online. By tapping into this market, HRS is now active in all of the top business travel markets.
"In addition, our partnership with The Lido Group enables HRS to offer a first-class local service to our customers across the Asia-Pacific region and gives us a significant competitive edge."