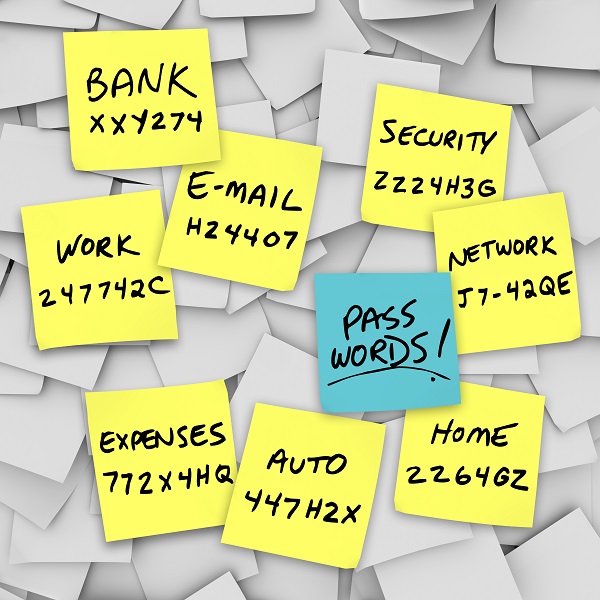 Management
Pass that word! How secure are your passwords?
Viruses! Ransomware! Webcams spying on users! Data bases being breached!
It just goes on and on. Another 64 million personal details and passwords have been stolen and published on the web as I write. Now even the FBI admits that all their computers have their webcams taped over to prevent hackers from tracking users and their surrounds. I remind you of this possibility only to reinforce the concern that security on the web is becoming an ever increasing challenge representing evermore serious consequences such as I wrote about last month. With this issue in mind, it may help you to control your log-in passwords more efficiently and securely.
Google has taken security very seriously and was the instigator of two-step validation, which is now being adopted by many service providers. Today, they incorporate their Smart Lock for Android system, which automatically keeps your phone or tablet locked when it's not with you, and unlocked when your device is safe. You can choose to have Android unlock based on Bluetooth or NFC connections, trusted locations, when you're carrying your device with you, or when it recognises your face or your voice. So if you are an Android mobile user, you are well protected. If you use the Chrome browser on iOS then you can also use part of this system. But what about your PC?
There are many password managers of which some are free and others come at a cost. Similarly, there are those with options to store your data on your own computer or in the cloud. In all cases, all data is encrypted and protected by one master password. But let's face it, passwords are a pain. It's easy to mock the people using '12345678' for everything, or the number one choice, 'password' but creating and recalling strong passwords that are unique to each website is a huge pain. Thank goodness then for password managers; not only do they do the remembering so you don't have to, but they can usually do all the typing too.
The apps selected here are all master password managers, and many of them have useful extra features too. I will list some of the more highly rated ones for you but also point out that Google has entered into an agreement with Dashlane to develop codes to allow fingerprint verification as it is becoming a popular security choice for many mobile device manufacturers.
LastPass: free, secure password storage and generation. There are two versions of LastPass, free and premium. Both can store an unlimited number of account logins in a secure vault protected by a master password, will complete online forms for you automatically, and can employ multi-factor authentication. The premium edition also syncs across multiple devices, stores passwords for desktop programs, and lets you share secured folders with other people, with customisable permissions.
One of LastPass's best features is its ability to generate strong, 'unguessable' passwords for all your accounts, which it then stores for you. There's no need to remember long, awkward streams of characters, or re-use the same password for multiple accounts. It's a class act.
Dashlane: superb password security for all your browsers and devices. Dashlane is LastPass's most serious rival, and like LastPass; it's absolutely superb, with strong password security, exceptional ease-of-use and the ability to store notes for future reference. It works on Windows, Mac, Android and iOS and with Safari, Chrome, Firefox and Internet Explorer, and like LastPass, there's a paid-for premium version that adds unlimited syncing and sharing, but the free version provides all the essentials: you get the core password manager, autofill and digital wallet features, all of which work flawlessly. Don't settle for LastPass without trying Dashlane first, and vice versa.
RoboForm:    free mobile apps for security on the move. RoboForm claims to be the world's best password manager, though its free version only lets you store up to 10 logins and lacks the breadth of features offered by some of its rivals. If you need to store more passwords, a premium account costs, though the mobile apps are free.
It's available for Windows, Mac, iOS and Android, and is a good option for anybody who wants a simple yet secure way to sync passwords between desktop, laptop and mobile devices.
RoboForm doesn't have quite the same features lists as Dashlane or LastPass, but it's a very good tool nonetheless and the free mobile apps are excellent.
Keeper Desktop: store passwords and files in your own secure digital vault. Keeper is available for Windows, Mac, iOS, Android and Linux, and its autofill extension works in all the major browsers. The free version is limited to a single device with local password storage. Various plans are offered for a price and offer unlimited password storage and syncing, fingerprint authentication and a web app.
In addition to passwords, there is also a digital vault for secure storage of photos, videos and documents, all of which are backed up securely if you're a subscriber. If you own a smartwatch, you can use it for two-factor authentication, which is a nice touch.
KeePass Password Safe:      an open source password manager with regular updates. It isn't the prettiest password manager around, but KeePass Password Safe is both free and open source with strong security, multiple user support and a whole bunch of plugins to expand the app further. The app is small enough to run from USB without installing on a PC, it can input from and output to a wide range of file formats and there are stacks of customisation options to play with.
The fact that KeePass is open source means anybody can inspect the code for potential weaknesses, which means that any security issues can be identified and fixed quickly. It's a great little app, if a bit intimidating for absolute beginners.
Enpass: storage for any sensitive information, plus cloud syncing.
Available for Windows, Mac, Linux, BlackBerry, iOS and Android, Enpass stores your passwords locally and is designed to store any kind of sensitive information. The password generator is particularly good – it enables you to choose whether passwords should be pronounceable and adjust the ratios of letters to digits and symbols – and it can sync via Dropbox, OneDrive, Google Drive, Box, WebDAV and iCloud, which, of course, is for Macs/iOS only.
The desktop app is, and promises to remain, free while the mobile app is available for a modest charge. Depending on your needs, you should also check their import capabilities should you wish to change to a new software option.
There are many more to choose from but the ones I have listed I have actually used over the years. To help you make informed decisions, you could check out a comparison chart online.
Whichever you choose is a question of features that appeal to you but please definitely use one, especially if you are still using the same password for all your logins.