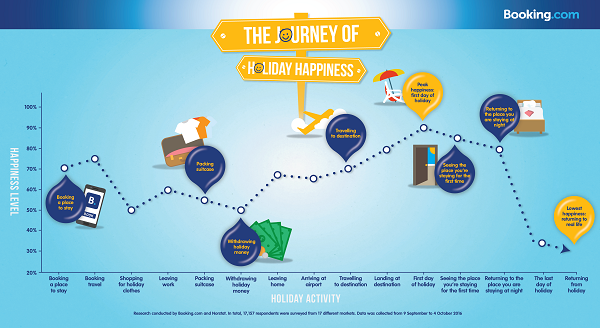 Now, global research commissioned by Booking.com, has revealed the magic ingredients to ensure holiday daydreams don't become a holiday let-down.
For many people, going on holiday is a highly anticipated moment, sometimes for months or even years, starting from research through to booking, looking at destination pictures and planning what to do during their stay. Regardless of how far in advance they book, with most travellers confirming they think about their upcoming holiday multiple times a day (39%), there's real pressure for the trip to fulfil all expectations.  
Australia voted as having the friendliest and happiest locals (35%), followed by Canada (33%) and Italy (29%)
Eight out of 10 people say a comfortable bed, a picturesque view (60%) and free Wi-Fi (52%) are the keys to holiday happiness
A third (33%) say staying in an apartment or home with local residents makes them happiest, while a quarter (24%) say meeting new people on holiday makes them happy
Go where the happy people are
The research, which questioned 17,000 people from 17 countries worldwide, reveals that when the locals are happy, smiling and friendly, it has an immediate effect on our own happiness. A third (33%) of people say staying with locals makes them happiest, and a quarter (24%) say meeting new people makes them happy. And this happiness is obviously infectious, with almost half (47%) saying they get along better with their partner and family when on holiday. It's the cheery and relaxed folk in Australia who top the list of happiest and friendliest nations, closely followed by Canada and Italy.
Top 10 countries with the happiest and friendliest locals:
| | |
| --- | --- |
| Australia | 35% |
| Canada | 33% |
| Italy | 29% |
| Spain | 25% |
| United States | 24% |
| Thailand | 20% |
| Japan | 20% |
| France | 20% |
| New Zealand | 20% |
| Brazil | 19% |

Shawn Achor, BA, MA, Harvard, one of the world's leading experts on happiness, NY Times bestselling author and speaker known for his advocacy of positive psychology explains:
"Over a decade of research proves that mind-set and happiness are incredibly contagious. You don't even have to say a word to affect someone else with your optimism. If you find yourself around positive people, you have an increased likelihood of experiencing the world in a positive way as well, which is why friendly locals can have such a significant impact on travel experiences. In addition, this is why we should be encouraged to do rejuvenating activities like go travelling, because when we are more positive, it is easier for other people around us to choose to be positive as well. Scientifically happiness is an interconnected choice."
Travel happy
After the initial happiness boost of seeing their accommodation for the first time and a fantastic, welcoming reception (38%) there are many holiday elements that people say keep their happiness levels on a high. A quarter (25%) immerse themselves in the local culture, half (48%) say eating delicious food is a winning ingredient for a happy holiday and almost half (45%) say breath-taking scenery is top of their list.
Top 10 ingredients for the happiest holiday:
| | |
| --- | --- |
| Delicious local food | 48% |
| Perfect weather | 48% |
| Breath-taking scenery | 45% |
| Amazing accommodation | 38% |
| Smooth travel | 37% |
| Travelling with a partner | 36% |
| Travelling with family | 34% |
| Ticking off a new country | 26% |
| Immersion in the culture | 25% |

Sleep happy
Of course, it's not just where you go or what you do that makes for a happy holiday. Where we lay our heads has significant impact on how happy we feel when away. When it comes to accommodation the research reveals a comfortable bed is top of the list for keeping us happy when on holiday (80%), closely followed by a picturesque view to wake up to each morning (60%).
Top 10 accommodation requirements for a happy holiday:
| | |
| --- | --- |
| A comfortable bed | 80% |
| A picturesque view | 60% |
| Free Wi-Fi | 52% |
| Nice toiletries | 39% |
| Soft pillows | 35% |
| Great room service menu | 28% |
| Waterfall shower | 25% |
| Complimentary bottle of wine on arrival | 21% |
| Coat hangers and wardrobe space | 17% |
| Mood lighting | 13% |