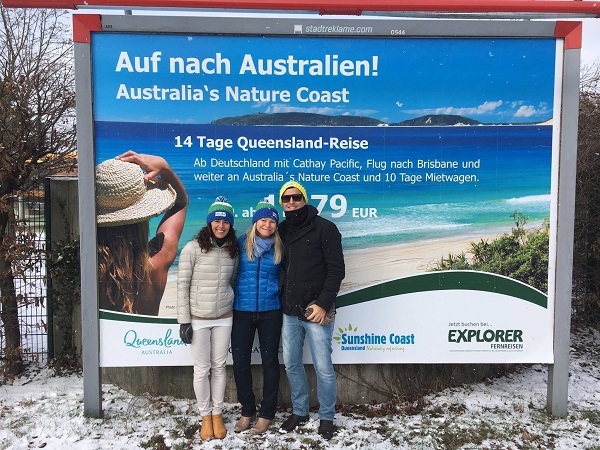 Queensland's Sunshine Coast and Fraser Coast regions got their timing perfect for the launch of an Australia's Nature Coast promotion across Germany this month.
While the temperature was soaring over 30C back home, the thermometer was plummeting below zero in Germany, making the Australia's Nature Coast an even more attractive proposition for snowed in Germans.
Australia's Nature Coast is a joint marketing partnership between Visit Sunshine Coast and Visit Fraser Coast, and their representatives were visiting Germany as part of Queensland on Tour Europe 2017 trade mission organised by Tourism and Events Queensland (TEQ)
The tour took in Germany, Italy and Switzerland and coincided with Europe's coldest snap this winter, with the snowflakes providing the ideal backdrop for Queensland's 'sunny' message.
The sales mission involved extensive meetings with retail travel agents, wholesale product managers and reservation staff across Continental Europe.
Selecting the ideal time to highlight the attractions of Australia's Nature Coast, the 'Explorer Fernreisen' campaign also included billboard promotions and shop displays.
The Australia's Nature Coast concept has achieved major traction in Europe, combining regions to mirror the travel patterns of many European travellers.
Spanning the Sunshine and Fraser Coasts, Australia's Nature Coast offers unbeatable natural experiences in some of the world's most diverse and pristine National Parks, rainforests and waterways. From the Sunshine Coast Hinterland, Glass House Mountains and Pumicestone Passage just north of Brisbane through Noosa with its renowned National Park, beaches and dining scene and the Great Sandy Straight leading to iconic Fraser Island you'll fall in love with some of the most beautiful places to visit in Australia.
Australia's Nature Coast features two UNESCO Biosphere Reserves side by side; the Great Sandy Biosphere and Noosa Biospheres put on a nature display seen nowhere else in the world; World Heritage listed Fraser Island; Lady Elliot Island the most southern island on the World Heritage listed Great Barrier Reef; 47 State and National Parks, Reserves and Forests, over 200 kilometres of pristine beaches, calm rivers and waterways with an abundance of birdlife.