Quest demonstrates plans across both metropolitan and rural New South Wales, with Quest Macquarie Park being declared officially open one night before construction commenced at Quest Penrith.
Quest Macquarie Park official opening event 2 March
Social commentator and Macquarie University alumna, Jane Caro, joined Stuart Ayres to officially open the newest addition to the Quest Apartment Hotels network, Quest  Macquarie  Park  at  71  Epping  Road  in  North  Ryde. With  the  addition  of  Quest Macquarie Park, the leading apartment hotel operator adds its 14th property to the Sydney market.
Quest general manager – Franchise Operations, David Ridgeway, was thrilled to join Ms Caro and Mr Ayres to officially open the new property, in the bustling business centre of Macquarie Park.
"We are extremely proud to be officially opening Quest Macquarie Park tonight, further cementing  Quest's  positioning  within  the  Sydney  market.  Demand  has  increased significantly as Sydney reaffirms its place on the global stage, consistently recognised as a key business destination in the Asia Pacific region," said Mr Ridgeway.
"By 2030 Macquarie Park is said to become Australia's fourth largest central business district (CBD) after Sydney, Melbourne and Brisbane, and is already the second largest business district in Sydney, and the third largest commercial office region in New South Wales. Quest will now provide much needed short and long stay apartment hotel accommodation to business and leisure travellers, within the expanding Macquarie Park Business District." he concluded.
Stuart Ayres officially  welcomed  Quest,  highlighting  the  impact  Quest Macquarie Park will have on tourism within the state. "Sky high confidence in our visitor economy is driving a hotel boom in New South Wales. With 7,500 hotel rooms under construction or approved for development, New South Wales is staking a claim as the number one tourism destination in the world. It is magnificent facilities like Quest Macquarie Park which help our city take the lead," Mr Ayres said.
Quest Macquarie Park franchisee, Shane Anderson was pleased to officially open the property and share the experience with members of the local business community. "I am excited to be officially opening Quest Macquarie Park today, as part of the landmark project that will position Macquarie Park among the country's leading economic centres. It is an amazing opportunity as we see Macquarie Park continuing to develop, offering a vibrant mix of commercial, retail, educational and residential spaces."
"Quest Macquarie Park will provide much sought after new apartment hotel accommodation for business travellers, with the City of Ryde anticipating an additional 40,000 jobs to be created as industry leaders move into the thriving business centre," said Mr Anderson.
Quest Macquarie Park provides brand new studio, one, and two-bedroom serviced apartments, located just 12 kilometres north-west of Sydney's CBD, in the heart of North Ryde. Quest Macquarie Park is near Macquarie University, Macquarie University Hospital and Macquarie Shopping Centre, with easy access to Ryde, Chatswood, Epping and Lane Cove.
Quest Penrith sod turn 3 March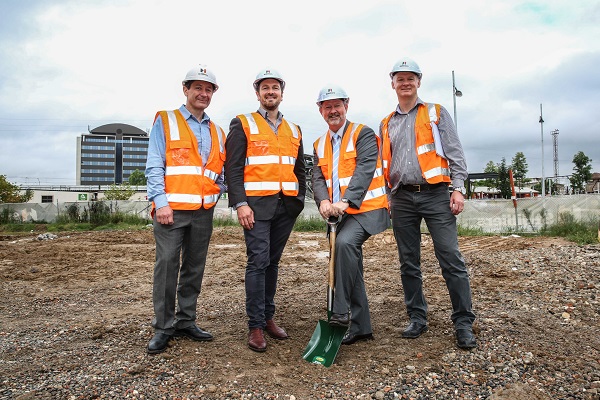 Construction has commenced at the development of Quest Penrith at Lord Sheffield Circuit.
The local government area of the City of Penrith is located in Australia's most significant growth corridor, Greater Western Sydney, with the suburb of Penrith already a major commercial centre. Penriths location, land, infrastructure and increasing diversity make the city unique and present opportunities to trigger further economic development.
Developments within the City of Penrith include the Western Sydney Airport (WSA), Western Sydney Priority Growth Area (WSPGA), Penrith Health and Education Precinct (PHEP) and Sydney Science Park.
Mayor of Penrith, John Thain, was on site to mark the occasion. He was joined by developers Michael Rae, senior project manager and Chad Doran, manager – Property Delivery, St Hilliers Property and Quest Apartment Hotels general manager – growth, James Shields.
"This is an exciting opportunity to further boost visitors to Penrith," Mr Thain said. "Penrith currently has 1.3 million visitors annually and we are working to double that figure, by 2025.
"The central location of the apartment hotel will give visitors great access to dining and entertaining options as well as access to tourist destinations in Penrith and the mountains," he concluded.
Mr Shields said Quest Penrith is in line with the company's national growth strategy and reinforces its commitment to meeting the needs of regional business centres.
"Quest Penrith's location is unmatched, with the planned economic development creating between 42,000 and 55,000 new jobs in the health, education, arts and culture, advanced manufacturing, tourism and logistics sectors. Quest Penrith will be able to provide premium short and long term accommodation to travellers doing business in this burgeoning region."
The property will feature 68 apartments over 7 levels, comprising studio, one, two and three bedroom configurations. The development also includes on-site parking, a conference room and gym. Quest Penrith will be located at Lord Sheffield Circuit in the new Thornton estate, and is expected to open late 2018", said Mr Shields.
Michael Rae, senior project manager – St Hilliers Property said the addition of Quest Apartment Hotels will spark immediate interest, driving traffic and creating opportunities for our growing community.
"Quest's presence in Penrith is an important one as it provides a high standard of accommodation that will support the New West and the overall city development, as it continues to expand into a destination of choice for business and leisure," said Mr Rae.
Quest Penrith will be the 26th Quest property in New South Wales, following the opening of Quest Newcastle West, scheduled for March 2017.