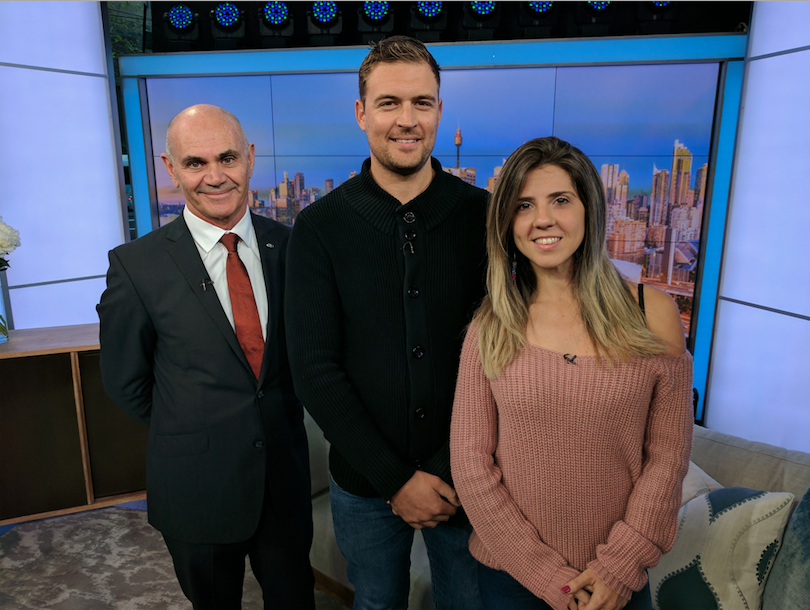 Sofitel Sydney Darling Harbour has announced Shane Rogers, from Kensington NSW, as the winner of the Golden Ticket of a lifetime, live on Sunrise this morning. The giveaway was created in celebration of the upcoming opening of Sofitel Sydney Darling Harbour.
Accompanied by hosts David Koch and Samantha Armytage, Greg Brady, the general manager of Sofitel Sydney Darling Harbour, proudly presented the winning ticket to Shane and his fiancé.
Shane entered the competition by making a booking for accommodation on his wedding night. He said, "My wife-to-be and I were so surprised when we found out we were the winners! This is the best wedding present we could have asked for and it will be wonderful to share all of these amazing Sydney experiences together."
The Golden Ticket comprises nine double pass tickets to events and quintessential Sydney experiences for two people.
Greg Brady said, "The team is looking forward to welcoming Mr and Mrs Rogers to our brand new hotel and hope they enjoy experiencing the city's best events and experiences as husband and wife!
"We are thrilled to be progressing closer to welcoming guests to this landmark hotel which will showcase the very best of our city and be a hotel that all of Sydney can be very proud of. Sofitel Sydney Darling Harbour will offer exceptional quality accommodation, perfect for a special occasion such as a wedding.

"The Sofitel brand is celebrating 50 years as a symbol of French elegance in hospitality and it is incredibly exciting to be able to showcase the brand in such a cutting-edge way."