Editor

Rosie Clarke

takes you through the newly designed, furnished and recently opened Four Points property to experience parts of the
luxury winter getaway

you could win with a single click below.

Courtesy of innovative, Aussie furnishing supplier Ramler, accomnews (and soon-to-be one of you lucky readers) tries out some truly luxe rooms and facilities.

As editor, my personal highlights, aside from the killer interviews I was able to get along the way, included the plush teal barstools in the lobby Brew Bar, some vibing illuminated Pool Deck furniture, the warm and absorbing deluxe studio bed and the stunningly vast mural by prolific artist Al Stark. Click through any of the images or links to enter into the editor's pick competition, where you'll be able to experience everything I did and much more.
After a few airport delays, I arrived in the lobby (only a little bit flustered) where I was greeted by several smiley front desk staff members. They whisked my luggage up to my room before I even realised I was checked in; which was wonderful as I had an interview arranged with CEO Garry Ramler up in one of the conference rooms and I didn't want to be late.
One of the standout elements of the hotel was the caring service provided by the front desk staff. They all had the spirited dedication that comes with being young professionals lead by a passionate manager. GM Stephen Ferrigno's long, and arguably nowadays quite rare, career in hotel management leaves a deep impression that you can all read about in the upcoming issue of AMG where we chat about his journey to the docklands.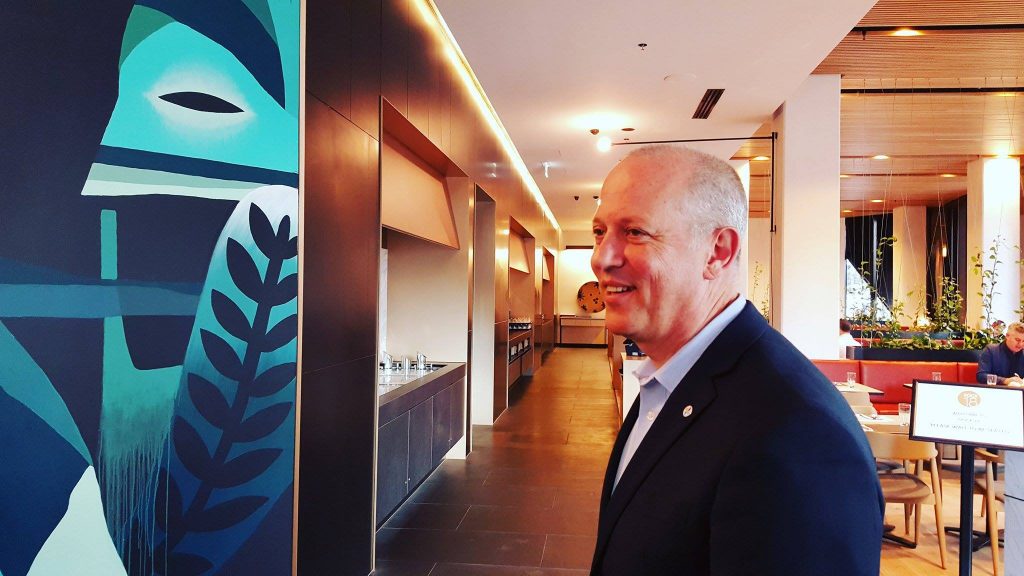 Interviewing Garry Ramler in one of the Four Points conference rooms was a win-win as it also provided the opportunity to make use of some furniture the company had supplied. As Garry eloquently told me:
"If you could turn the hotel upside down and give it a shake; everything that falls out, is us."
A great visual representation of what Ramler does for commercial Australian accom: loose furniture. Garry was a fascinating interview: he talks fast, thinks fast and has a family-centred story to tell. The company he now heads up was started last century by his dad in a post-war Australia. Check out this season's AMG for the full story. 
Found a bag hook on these bespoke #hoteldesign chairs by #ramlerinternational & a rainbow appeared ?? #MondayMotivation pic.twitter.com/1ViyF3wff3

— accomnews (@accomnews) July 17, 2017
Post-interview, Four Points general manager Stephen graciously gave me a grand tour of his hotel. It was with a beaming delight that he pointed out his favourite nooks and crannies, corners and views. One of those was the gleaming view of the Melbourne Star observation wheel, happily obtained even from the back of hotel thanks to the shining reflective apartment buildings that sit adjacent.
"An added bonus."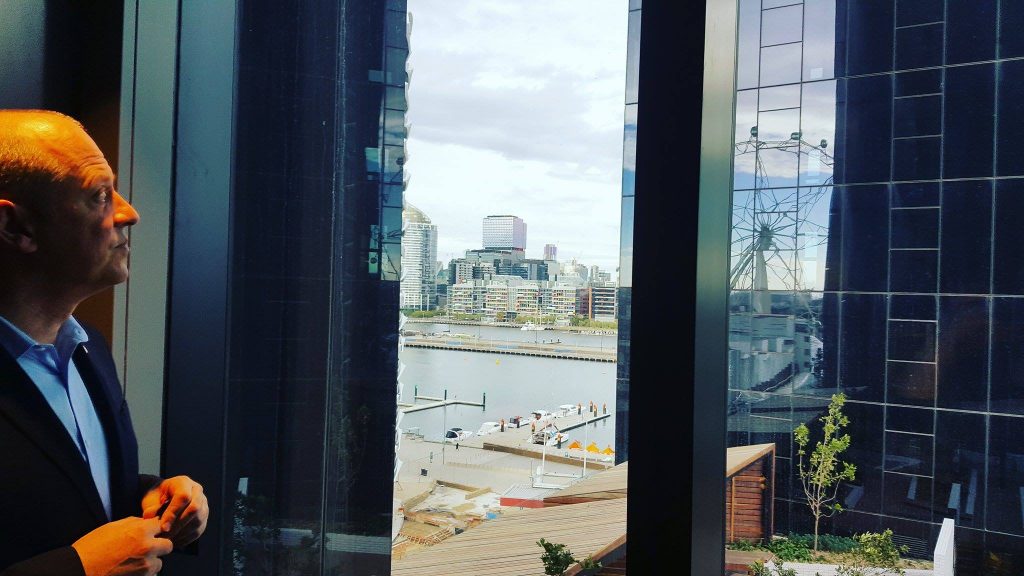 The pool deck area was beautifully designed to suit different guest types: I could equally envisage business and leisure guests (friends, colleagues or families) enjoying the geometric pod-like zones. An interior design theme used throughout the property was the mix of texture, hard lines and soft curves through the furniture and artwork. For instance, this very square socialising area on the deck was dotted with round plant pots, that illuminate brightly at night.
Over in the Brew Bar; round, ring lights and soft, plush stools complement the tall, sharp design corners native to the space.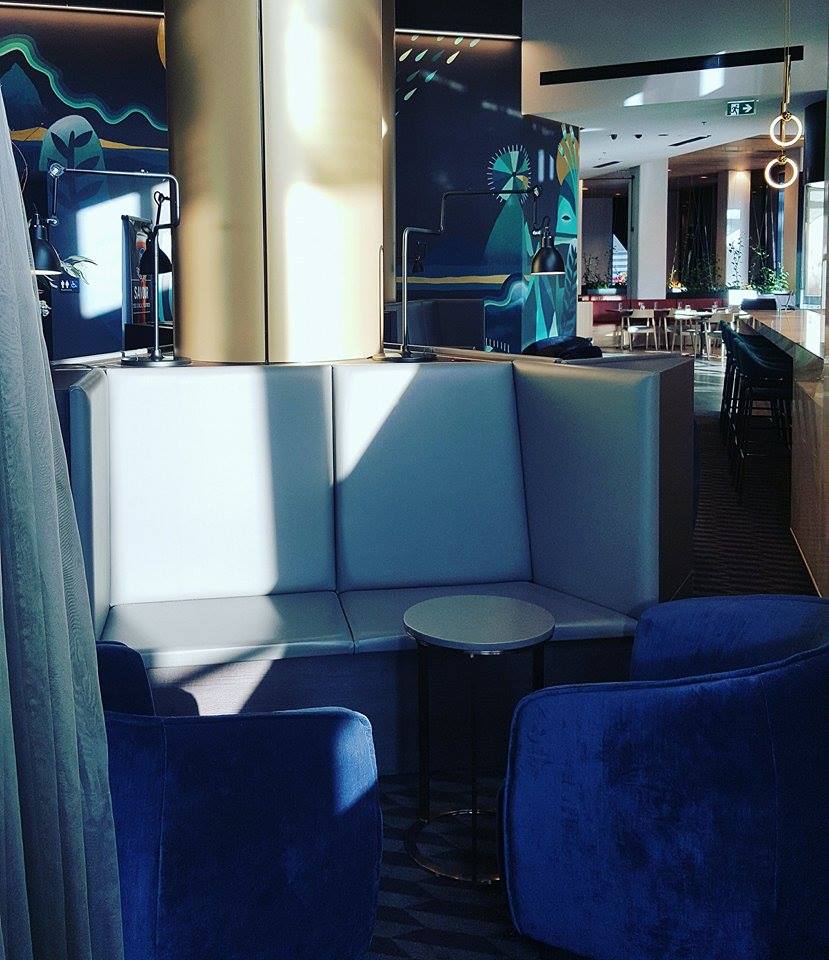 There's a mix of texture that is embodied in every choice from the mural you can glimpse here, to the lighting, fabrics and chairs.
What I especially loved about the geometric furniture design was that it allowed for a sense of privacy in the public hotel space that would otherwise be absent.
Personally, I hate it when people read over your shoulder while you're on your phone or reading a book. Sometimes, it's nice to have quiet chats over a drink and sometimes you want to get in amongst it at the bar.
This type of design allows for all that.

Eclectic sofa options layered around the hotel offered a similar style. I quickly fell in love with the idea of a high sofa-arm.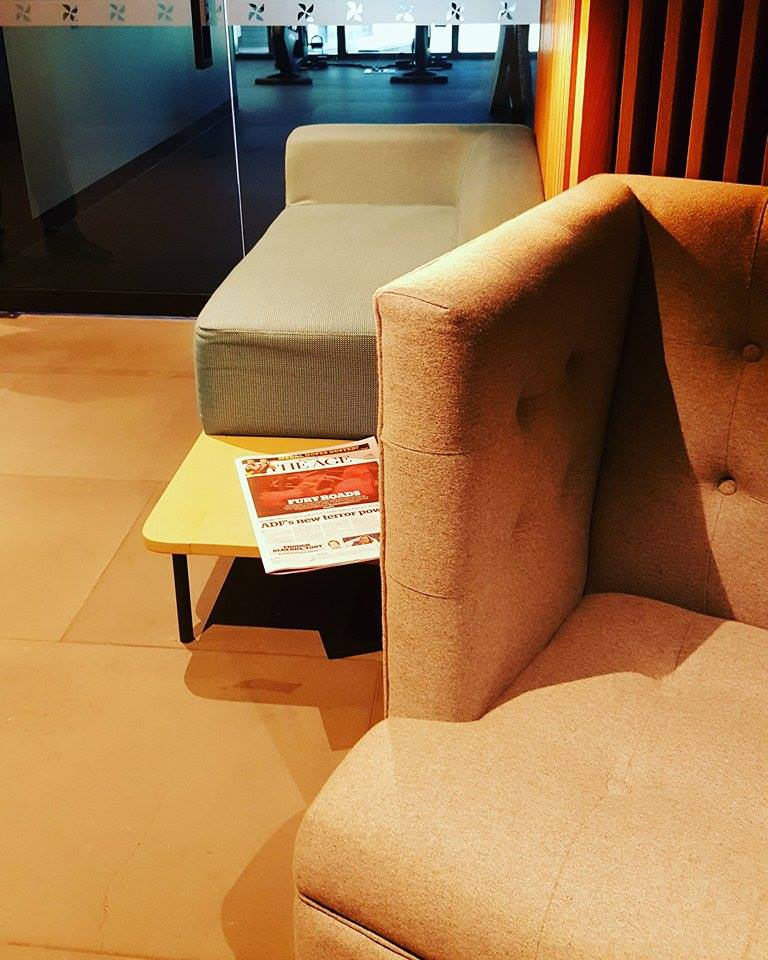 What guest could actually make it to the gym when these look so tempting?
After a couple of hours spent soaking up the stillness of my guestroom, where staff had kindly sent up some delicious treats, my friendly hosts Sharyn and Rob from Ramler took me to "the most ambitious restaurant in Melbourne", Kisumé to experience the astonishing interior work they'd done there firsthand.
Equal parts edgy and comfortable, the room elements all demanded that second glance.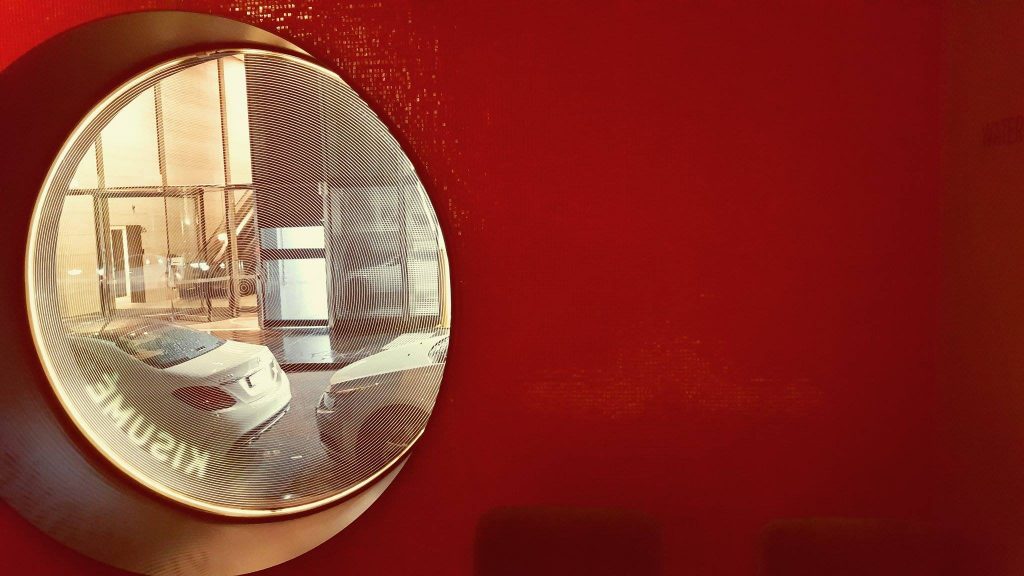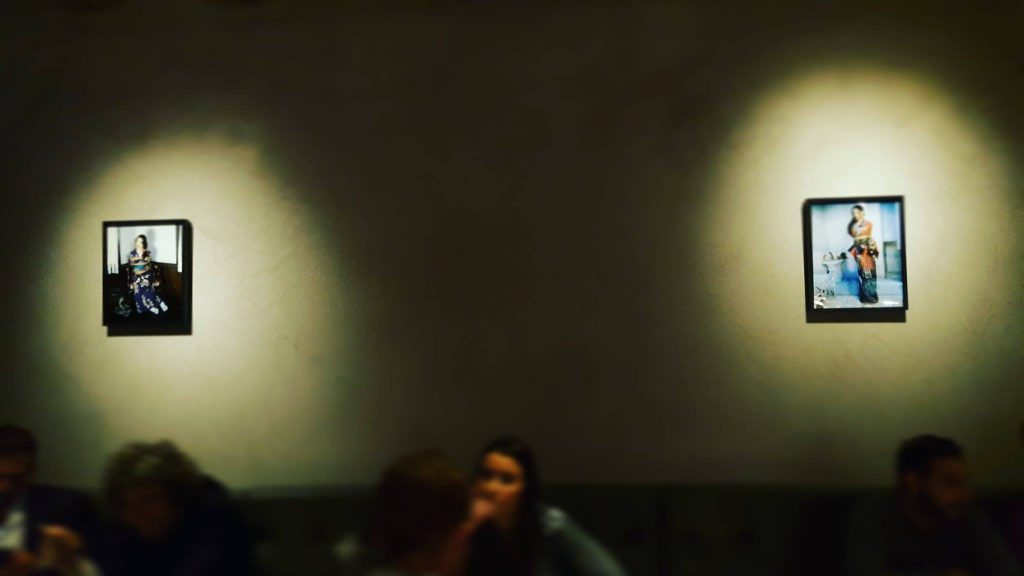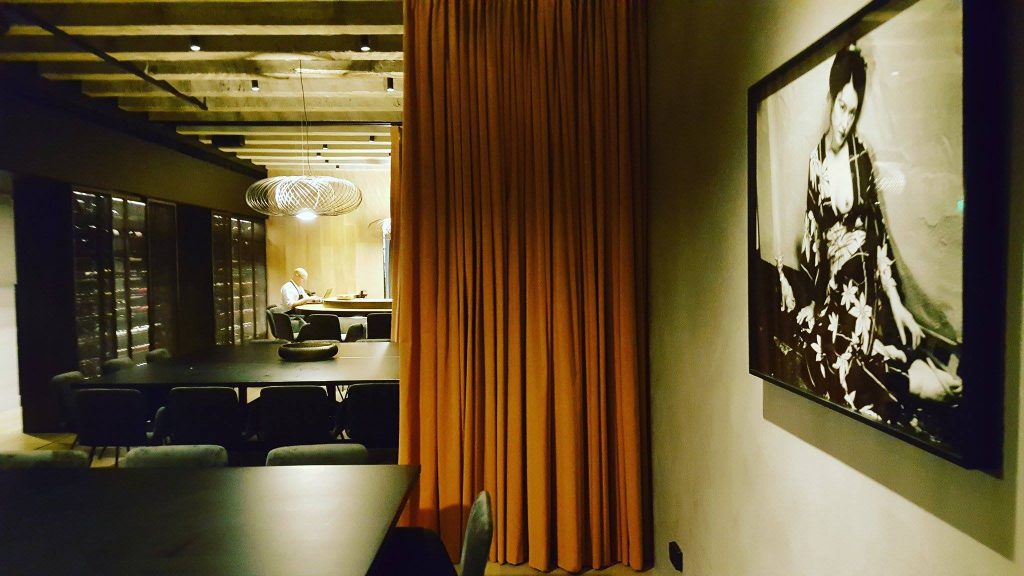 Of course, my favourite element of the design, again, went to the bar stools; they give so much to the open space, tying together the metal bar finishings and the richly styled dining areas.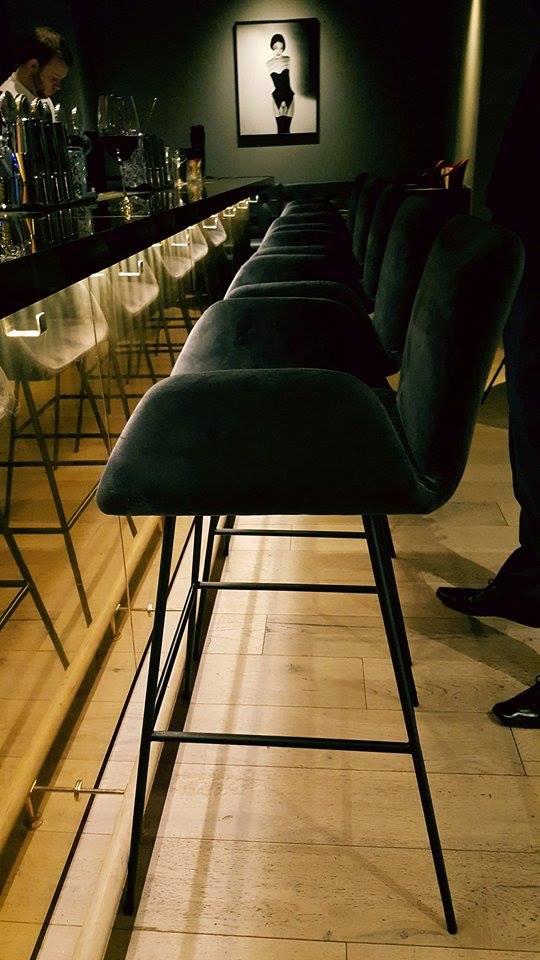 Check out seemed to come much too soon for me as I had packed in so many terrific things. (Luckily for accomnews readers, you have the chance to spend three amazing nights here!) I did have one final stop on my grand tour of Four Points Melbourne Docklands' interior design to enjoy though, and that was a huge privilege: Ramler connected me with renowned artist Al Stark, who was working on new projects in his city-based studio.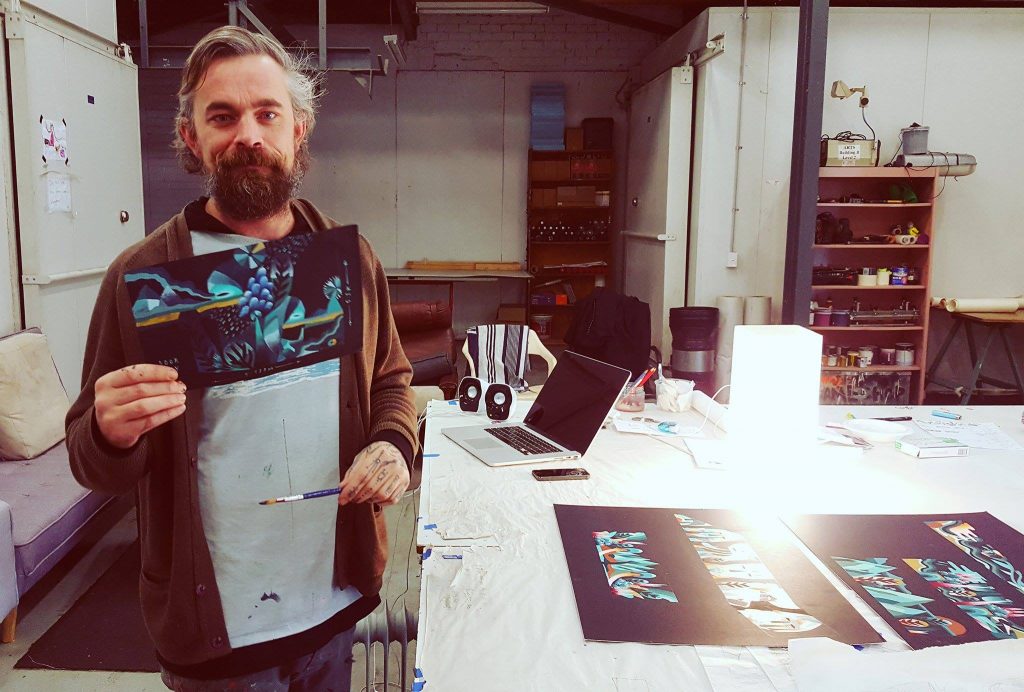 I had some questions for Al about the story behind his mural at Four Points and his answers were more prolific than even I could expect. Elemental, destructive and nurturing all at the same time, the colour it brings to the hotel interior will certainly bleed through into the upcoming AMG case study. You really don't want to miss it.