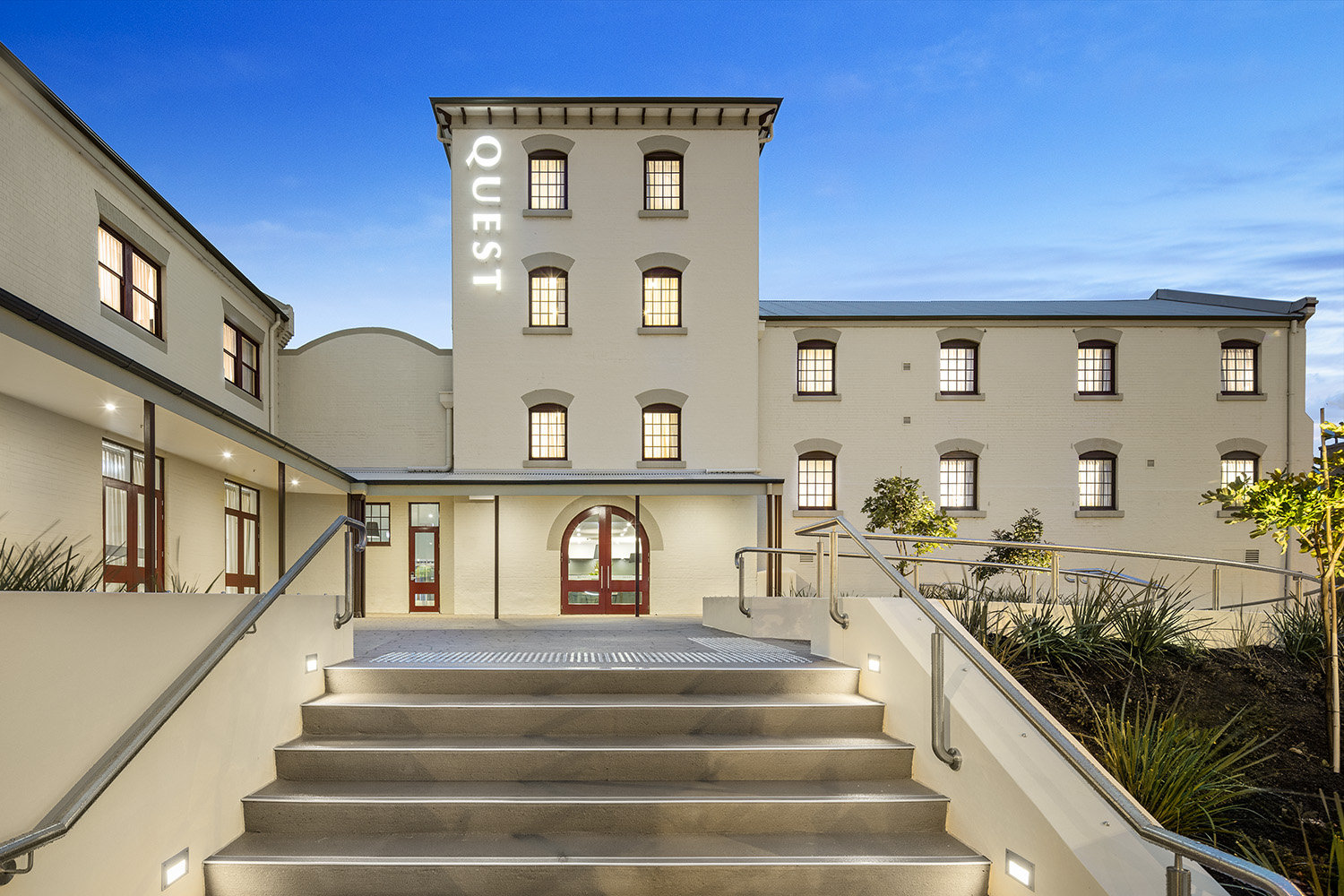 Quest Apartment Hotels has opened Quest Newcastle West at 787 Hunter Street, the second property for Quest in Newcastle, increasing Quest's offering by 78 rooms in this expanding regional business hub.
The brand new premium quality apartment hotel is ideally placed to meet the demands of Newcastle's growing corporate sector, as the thriving city goes from strength to strength, expecting to provide an additional 10,000 jobs by 2036.
Tourist traffic to Newcastle West has increased significantly, with the city recently experiencing consistent hotel occupancy levels of over eighty percent. The addition of a second Quest property to the area will provide much needed short and long stay apartment hotel accommodation to business and leisure travellers. Key economic drivers of the region include tourism, health care, manufacturing and retail trade.
Quest CEO, Zed Sanjana was pleased to open the group's second Newcastle property, which he states only further exemplifies the robust confidence the leading apartment hotel operator has for growth in the area.
"As each property opening demonstrates, New South Wales is a truly significant growth market for Quest and one we aim to continue focusing on, ensuring we solidify and strengthen our presence in the state," said Mr Sanjana.

"Newcastle is on a solid growth trajectory, as one of the country's major bulk export ports and the world's largest coal export harbour, in addition to generating 60 per cent of the State's electricity and servicing one of the country's most highly-regarded and productive wine regions – the Hunter Valley," he said.

"We've already received significant demand for Quest Newcastle West and I am confident the property is going to be a successful and valuable contributor to the Quest network," he concluded.
A special family bond exists between the Quest Newcastle West Franchisees, Lee and Sheree Bennett and Daniel and Jill Burton. Sisters Sheree and Jill have gone into business collectively with their husbands, in owning the established Quest Newcastle business, and now taking on the new Quest Newcastle West property.
The couples are determined to provide guests with a unique family feel and deliver a genuine 'home away from home' experience. Both the Bennetts and the Burtons hail from the Newcastle area, and were previously franchisees for Quest Maitland, as well as Quest Dubbo, and look forward to using their combined experience to ensure Quest Newcastle West is a success. Lee expressed his excitement about this next chapter within the Quest network and operating in the vibrant Newcastle market.
"I am excited to be opening Quest Newcastle West. It is an amazing opportunity as we see Newcastle continuing to develop, with the Newcastle Urban Renewal Strategy transforming the city centre into a vibrant and innovative regional hub and an attractive destination for businesses, residents and visitors alike.

"Originally built as the Castlemaine & Wood Bros brewery in 1876, this heritage listed building still features the original façade and internal cathedral ceilings. In the 1980s the NSW state government purchased the site to develop it into a regional museum. It has now been repurposed to provide accommodation to both business and leisure travellers within the newly developed area," said Mr Bennett.