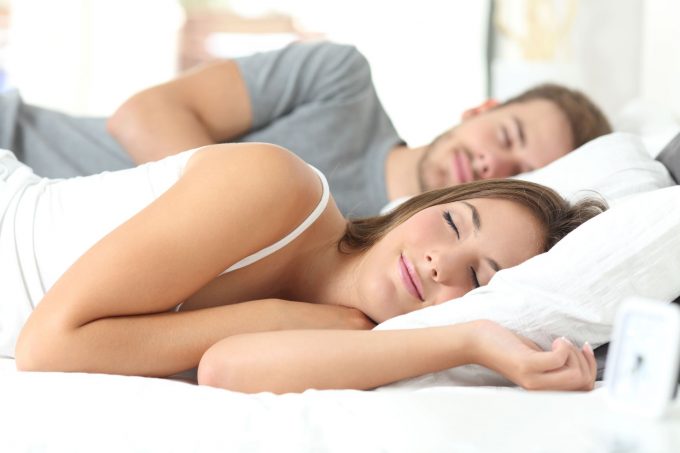 There's something irresistible about the smooth expanse of a plush hotel bed.
The views from your room may be sensational, the artwork Picasso-esque and the wifi lightning quick, but it's the satin stripe bedding that really says 'you're on holiday'.
Gone are the days of patterned coverlets with the whiff of suspicious fluids lingering within their weave.
Today's travellers lust after white, fresh and luxurious; whether they're paying $100 or $1000 a night.
And they're so devoted to nights in white satin that the latest fashion is to supersize that soft, stripy whiteness to epic new proportions.
Luxe feel
According to industry insiders, there's a trend towards oversized linen on queen beds. It creates a luxe vibe and looks big and comfortable with a lovely overhang, so no-one is getting cold in the night because the covers don't stretch over.
A survey of 2000 people conducted as part of the UK's 2018 International Hotel Show reflects that penchant for big beds and luxe bedding. The Perfect Hotel Bedroom Report showed the majority of respondents prioritising big beds over big rooms, with king and super-king beds being sought by a massive 89 percent of respondents.
Those surveyed professed an appetite for 'pure luxury', even when travelling on a budget, but rated 'vibe and feeling' far more important than room size.
Interiors blog Style Curator lists luxe accessories and opulent finishes which take inspiration from 'old Hollywood' as one of the year's hottest trends – think grey velvet bed heads and rich, plush throws.
That opulence doesn't extend to mountains of scatter cushions, though. Accommodation houses are opting for fewer cushions that can be washed more readily, and guests say they are turned off by a plethora of pretty pillows.
Just 11 percent of the Hotel Show's respondents felt an urge to see numerous cushions adorning their accommodation beds.
But while guests are opting for fewer pillows, they are becoming increasingly discerning about the ones they do want.
Bob in Rose Cottage may choose to rest his head on a brick, but Indira in the Honeysuckle Suite wants fluffy clouds.
Which is why pillow menus, once the domain of luxury hotels, are increasingly appearing in mid-price accommodation houses.
Textural notes
While 'colour pops' created by cushions, runners and artwork have long been the mode du jour, now texture and natural tones are in.
An insider told Accomnews that to introduce colour elements, some accommodation houses were combining the triple sheet method with waffle-weave blankets to add texture and warmth.
According to Style Curator, the latest look is named Nordic-coastal and is all about mixing textures and materials to create interest – a kind of Hamptons/Scandic mashup.
Knotted rugs, hides, linen, rattan, timber and quilted or leather fabrics are all used to create texture over a base of white, sand, or grey tones.
Natural focus
Nature is an enduring design inspiration when it comes to accommodation, and the outdoors is touted as a major influence indoors in 2018.
According to the Perfect Hotel Bedroom Report, guests are looking for a neutral palette paired with natural wood to help create a sense of cleanliness and peace when it comes to accommodation decor.
The textural styling of Nordic-Coastal embraces natural elements as a central element of its light and airy Scandinavian feel.
While dark wood mahogany features in glamour-inspired design this year, at the other end of the scale rustic wooden furniture and nature-inspired art, including fabrics featuring flora and fauna, are also inspiring current accommodation décor.
The triple sheet treat
All of these trends, though, are dwarfed by the giant consensus of 2018 – that white linen still rules supreme.
Accommodation houses are using triple sheeting in ever-increasing numbers, while luxury homes and boutique hotels are stocking up on satin stripe doona covers.
Triple sheeting allows accommodation providers to creating a luxurious-looking bed with three flat sheets and a doona, quilt or blanket. By simply replacing the sheets, two of which sandwich and protect the quilt from contact, it saves time and money involved in purchasing and laundering expensive bedspreads.
Cleanliness
Triple sheeting also provides a sanitary environment for a clientele increasingly concerned with cleanliness.
Bedding unlikely to have been washed since the days of A Country Practice – from grainy coverlets to yellowed bed skirts – no longer passes the guest smell test. White looks and feels clean.
As new materials and fabrics for bedding come into the retail sector, hotelmanagement.net reports that guests have come to expect similar products when they stay in hotels.
For example, some high-tech retail bedding products do more than just keep guests warm at night. They draw moisture away from sleeping bodies and are designed with anti-microbial properties.
The focus on hygiene means guest not only expect their white sheets to be sparkling fresh, but that those luxe throws and earth-toned waffle-weaves must be washable as well as beautiful.
Cushion and pillow covers must be capable of a machine wash and the inserts themselves must also be made from a washable material, meaning foam is out.
Aside from cleanliness, though, there are other advantages to white linen.
For a soft upgrade, you only need to replace cushions and runners to create significant change – whether your bent is for luxe or Nordic-coastal finishes.
And when it comes to housekeeping, cleaners will be singing your praises for the ease of bed changes involving only one colour, while commercial laundries are increasingly resistant to stocking and washing linen which is anything but white.